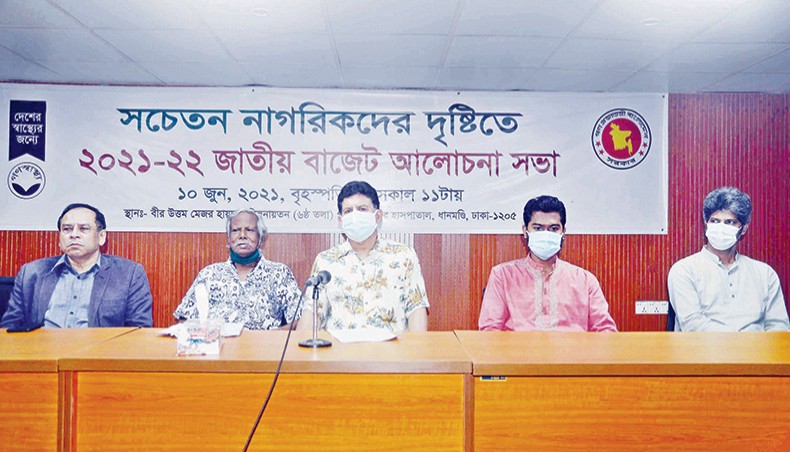 Finance minister AHM Mustafa Kamal in his proposed national budget for 2021-22 financial year has deprived the common people of their rightful share by allocating a tiny amount for their welfare, observed a group of politicians, economists and professionals at a discussion on Thursday.
The discussion on the proposed budget was organised by Concerned Civil Society, a platform of various political parties, NGOs, rights organisations and memorial societies, at Gonoshasthya Nagar Hospital auditorium in Dhaka.
Economist and former former general secretary of Gono Forum Reza Kibria presided over the session.
Gonoshasthya Kendra founder Zafrullah Chowdhury said the finance minister had given much allocation for the bureaucrats but deprived the common people of sufficient allocation.
Moreover, there is no indication to stop corruption in different sectors, Zafrullah said.
He called on the government to reduce taxes imposed on medical equipment import and introduction of free rations for the poor.
Former adviser to caretaker government, senior trustee of BRAC, economist Hossain Zillur Rahman said that the finance minister claimed that he had formulated the budget for the business class people, but he should keep in mind that the common people have prominent role in the development of the economy of the country.
Agriculture, garment, small industries and remittance plays a significant role for the economic development, Hossain Zillur said.
Socialist Party of Bangladesh general secretary Khalequzzaman said that the budget would favour looting of money by the looters.
Ganosamhati Andolan chief coordinator Zonayed Saki said that there was no special allocation for tackling Covid situation as it was not the government's top priority.
It also ignored the fate of 2.5 crore new poor created after the spread of Covid-19, Saki said.
The government has failed to procure Covid vaccines and prime minister Sheikh Hasina could not avoid the responsibility of the failure, Saki said.
Bangladesh Chhatra Odhikar Andolan leader Nurul Haque Nur said that the main goal of the proposed budget should be the people affected by Covid situation.
The government should stop mega projects and channel the money to those people, Nur said.
Reza Kibria expressed his doubt that government would not be able to implement the budget properly.
Jatiya Samajtantrik Dal-JSD executive general secretary Shahid Uddin Chowdhury also spoke at the programme and Gonoshasthya Kendra media adviser Jahangir Alam Mintu conducted it.
Want stories like this in your inbox?
Sign up to exclusive daily email
More Stories from Country