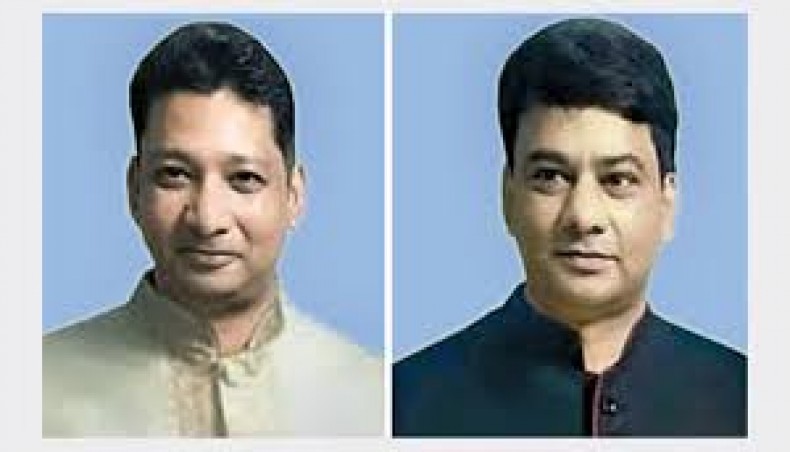 The Anti-Corruption Commission on Thursday approved charge sheets against four people, including suspended Awami League leaders Enamul Haque Enu and his brother Rupon Bhuyain, in two cases filed on charges of amassing illegal wealth worth Tk 89 crore.
Enamul was vice-president of the Gandaria thana unit of the Awami league while Rupon was its joint secretary. Enamul was also director of Dhaka Wanderers Club.
The commission approved the charges in a meeting at its Segunbagicha headquarters in the capital, said ACC secretary M Anwar Hossain Hawlader.
He said that the commission approved a charge sheet against Enamul on charges of owning illegal wealth worth Tk 47.36 crore through unlawful business operations, including casino business.
The ACC investigation also found that Enamul's close aides — Harun-or-Rashid and Abul Kalam Azad — helped him earn illegal wealth to the tune of Tk 4 crore, said the secretary.
Another charge sheet was approved by the anti-graft commission against Rupon as it found him possessing illegal wealth worth Tk37.57 crore.
Anowar said that Rupon owned wealth worth Tk 42.93 crore whereas they found his income from legal sources to be only Tk5.36 crore. He amassed the illegal wealth from casino business.
Earlier, in October 2019, the ACC filed two cases — one against Enamul for amassing illegal wealth worth Tk21.89 crore and the other against Rupon for having unlawful wealth worth Tk14.12— with its integrated district office in Dhaka.
The brothers were arrested at a rented flat in Keraniganj where they were hiding after law enforcers launched a crackdown on illegal casinos, bars, spas and graft in January 2019.
A Criminal Investigation Department briefing earlier disclosed that the two expelled AL leaders had transacted over Tk 200 crore through their 91 bank accounts during 2014–19 and they owned 128 flats in Dhaka, which they bought with the money earned from their casino business.
The CID in its investigation found 20 houses, 128 flats and 25 Kathas of land, belonging to the siblings, in and around Dhaka city.
At least four cases were filed against the siblings for their alleged ties to illegal casino business, money laundering and corruption.
Law enforcers recovered Tk 40 lakh in cash and 12 mobile phones from their possession during the arrest.
According to CID officials, the two brothers have 22 houses and plots in the capital, five cars and Tk 19.11 crore in 91 bank accounts frozen by the Bangladesh Bank.
The CID on July 22, 2020 submitted a charge sheet against Enamul Haque Enu and his brother Rupon Bhuiyan and seven others in a case over illegal casino business and money laundering.
The other accused were the siblings' brothers Shahidul Haque Bhuiyan, Rashidul Haque Bhuiyan and Merajul Haque Bhuiyan, Wanderer's Club general secretary Joy Gopal Sarkar, their associates Nobin Hossain Sikder, Md Saiful Islam, Tuhin Munshi and Pavel Rahman.
Of them, Enamul, Rupon, Joy Gopal, Nabin, Tuhin and Saiful are now in jail while Shahidul, Rashidul, Merajul and Pavel are still in hiding, the charge sheet stated.
Want stories like this in your inbox?
Sign up to exclusive daily email
More Stories from Politics