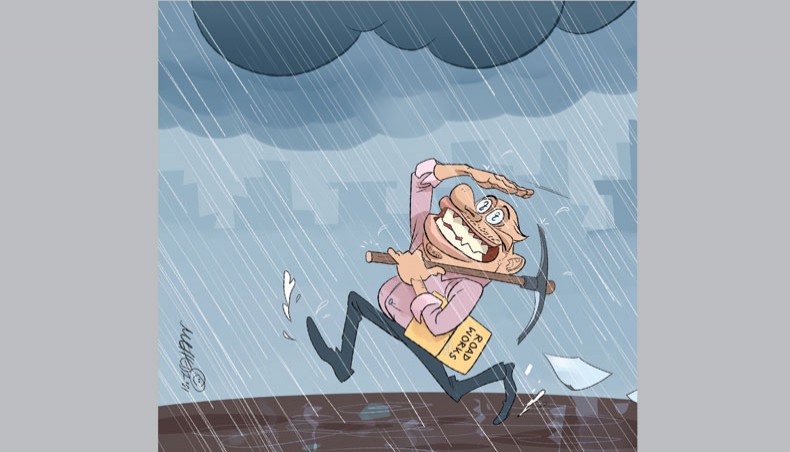 Hundreds of drain pipes are kept in piles along roads in Kathalbagan in the capital while a number of other roads have also been dug at places of the city for improving its drainage system.
The city authorities are yet to complete the development work on draining out the rain water before the monsoon, with some areas of the Old Dhaka and Jurain remaining marooned for weeks after pre-monsoon rains have inundated these parts of the Bangladesh capital.
Not only Kathalbagan, most of the city areas, including Dhanmondi, Mirpur, Mohamamdpur, Tejgaon and Old Dhaka, remain in a similar condition, where the drainage system is not ready to carry away the monsoon rainwater.
The Bangladesh Meteorological Department has forecasted heavy rains this year while pre-monsoon rains have already caused huge public sufferings in the city.
'Dhaka might face heavy rains — above 89 millimetres daily from Monday,' said Md Omar Faruq, a BMD meteorologist.
However, officials of both Dhaka South and North City Corporations said that they were not given enough time to complete the drainage network as Dhaka WASA handed over the responsibility to them on December 31, 2020.
They said that they could not ensure a waterlogging-free city this year but people will suffer less compared to previous years as they have already cleaned some canals and major drains.
City dwellers, however, said that the city drainage network was in a worse condition than in previous years as the city corporation undertook the drainage renovation activities in a haphazard way.
'As the drains do not have interconnectivity, rain water will stay stagnant for longer periods compared to the past years, which
I can say from what I see in our Dhanmondi area,'
said Sharif Ahsan, 45, a banker.
'People are now in a better condition but it will take some time to have a proper condition. As soon as we can implement our long-term plan, people will get the full benefits,' Dhaka South city mayor Sheikh Fazle Noor Taposh claimed.
He told reporters on Wednesday that the DSCC had taken a massive plan in three timeframes — short-term, mid-term and long-term — to address the problem of waterlogging.
The city corporation is now carrying out the short-term activities, including cleaning the drains and connecting them to canals and then to rivers, to drain out the city's rain water.
'The Tk 103 crore mid-term development project, including infrastructure development and expansion of water carrying bodies, has also started, he said, adding that the DSCC has prepared a drainage master plan for the city.
Taposh said that city people would have a big relief after the short-term plan was implemented while the mid- and long-term plans would give them a complete relief.
Dhaka North city mayor Md Atiqul Islam on Saturday acknowledged the public sufferings, saying that he was taking lessons from the experiences he was going through.
DNCC chief executive officer Md Selim Reza said that as a number of development projects were in progress coordination became a big challenge.
He hoped that when their on-going projects were completed people will get relief.
The residents of Ahmadnagar in Mirpur said that most of the drains in the area were filled with waste and earth as they had not been cleaned for the past 10–12 months.
Bangladesh Institute of Planners vice-president Fazle Reza Sumon said that the city corporation had cleared some illegal structures and cleaned some canals but the work on the drainage network was yet to start.
He said that piecemeal efforts would result in little benefit until the total system was made functional.
'An integrated drainage planning is a must to solve the city's waterlogging problem,' he said.
People of Old Dhaka's Banglabazar and Azimpur areas on Wednesday like its other parts, too, suffered from waterlogging after a moderate rain.
Fazle Reza said that Dhaka WASA had a drainage master plan but it was just in paper.
'We need to implement a comprehensive drainage master plan to get over Dhaka's waterlogging woes,' he said.
As a result of the pre-monsoon rains most of the world's fourth worst liveable city went under knee-to-waist-deep water, which mixing with sewage also entered many business establishments causing huge damage to goods and houses risking public health.
A few people walk by Aga Sadek Road, which was dug up to lay sewers about a month ago, at Bangshal in Dhaka on Thursday. — Sourav Lasker
Want stories like this in your inbox?
Sign up to exclusive daily email
More Stories from Country