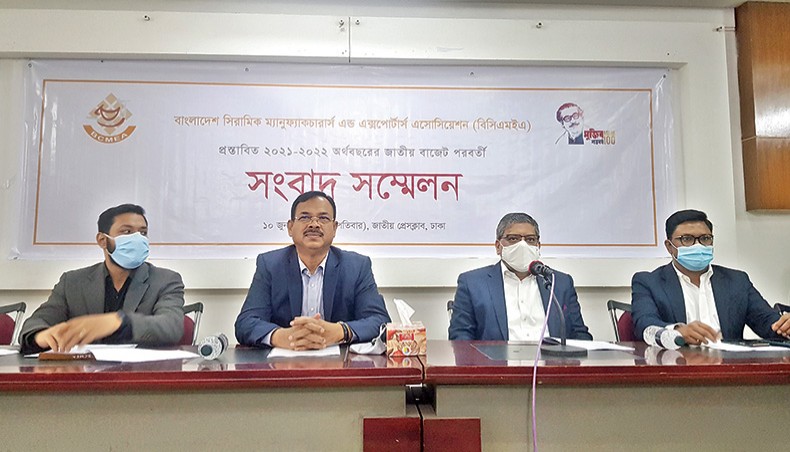 Leaders of the Bangladesh Ceramic Manufacturers and Exporters Association (BCMEA) on Thursday demanded imposing higher tariff on import of tiles for the safeguard of the local ceramic industry.
They also demanded withdrawing the supplementary duty levied on production and supply of all kinds of locally made tiles and sanitary products.
Finance minister AHM Mustafa Kamal on June 3 placed the proposed budget for the fiscal year 2021-22 before parliament.
BCMEA president Sirajul Islam Mollah and general secretary Irfan Uddin placed the demands at a post-budget press conference held at the National Press Club in the capital.
Sirajul said that the reduction in tariff on imported tiles products would push the local ceramic industry into an uneven competition.
In the proposed budget, the government has reduced minimum tariff value on imported tiles by $1 at each square metre.
The government has already proposed 15 per cent supplementary tax on domestic ceramics at the production stage and 15 per cent VAT on sales, he said.
The budgetary measures may lessen the investors' interest towards the sector that eventually would result in a huge job cut, Sirajul said.
BCMEA general secretary Irfan Uddin said the local tiles and sanitary products were no longer considered as luxury items for the building construction industry.
If the supplementary duty, imposed on local ceramic products, is completely withdrawn, the prices would go down and use of ceramic items, those that are actually essential for maintaining hygiene, would increase consequently, he said.
The BCEMA leaders also urged the government to reduce import duties on mineral raw materials of ceramic products, saying that most of the ingredients for producing ceramic and tiles items are not available in the country.
BCMEA vice-president Moynul Islam, director Rasheed Mymunul Islam, Azizul Hakim Sumon and Ruslan Nasir, among others, were present.
Want stories like this in your inbox?
Sign up to exclusive daily email