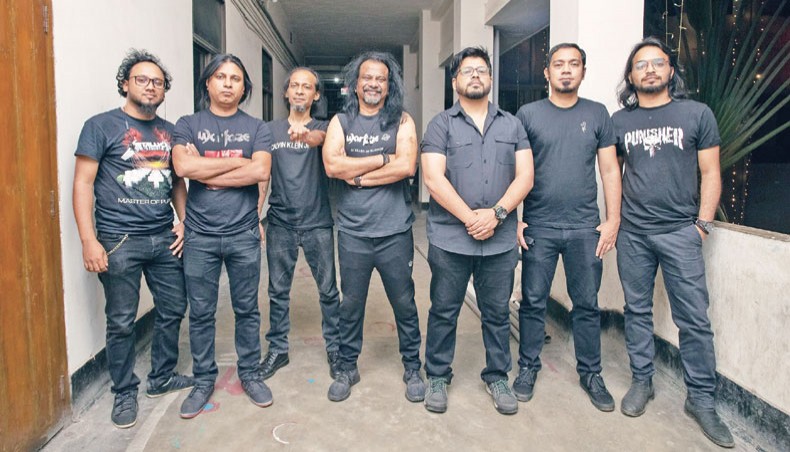 Drummer and co-founder of Warfaze, Sheikh Monirul Alam Tipu, said that it will be challenging for local bands to reverse the setbacks the music industry suffered due to the Covid crisis.
'Covid-induced fallout has turned the music industry and livelihoods of the musicians upside down. Many artistes have become unemployed due to the cancellation of open-air concerts. All bands have been suffering financially for more than a year. It will be challenging for bands to reverse the setbacks caused by the Covid situation,' Sheikh Monirul Alam Tipu told New Age.
'All outdoor concerts and music shows were cancelled after the first Covid-19 cases were detected in Bangladesh in March 2020. Only a few bands were able to keep themselves afloat with revenues generated from merchandise sales. We were hoping that the situation would improve and concerts would resume soon. However, given the severity of the Covid-19 outbreak, we do not know when outdoor concerts will resume,' said Tipu.
Warfaze had to postpone its founding anniversary celebration programme due to the Covid crisis. The band completed its 37 years in the music industry on June 6.
'Warfaze began its journey on June 6, 1984, with members namely Meer, Helal, Naimul, Bappy, and Ibrahim Ahmed Kamal and I joined the band in 1986 as the drummer and co-founder. We celebrate our anniversary annually by arranging a special programme. Besides, we have been releasing music videos marking our anniversary every year but we had to postpone this year's celebration programme due to the Covid crisis. This year we released a short video on our Facebook page which features nostalgic photographs portraying our band's journey,' mentioned Tipu.
'After the Covid situation improves, we wish to return with a bang,' said Tipu, who also added, 'We are now working on our new album which we want to release in December. We will soon record the first song of the album.'
The band's current line-up comprises Sheikh Monirul Alam Tipu on drums, Ibrahim Ahmed Kamal on lead guitar, Shams Mansoor Ghani on keyboards and vocals, Naim Haque Roger on bass, Samir Hafiz and Soumen Das on guitar while Palash Noor is the vocalist.
Tipu also spoke on the band's recent venture.
'We have recorded a playback song for young director Sourav Kundu-directed film Girgiti. The lyric of the song, which will be released soon, is based on the story of the film. It was recorded on February 20,' said Tipu.
'I would like to thank the fans of Warfaze for their support during our 37-year journey. We still have miles to go. Warfaze will work harder in the coming days to satisfy music lovers' expectations,' ended Tipu.
Want stories like this in your inbox?
Sign up to exclusive daily email