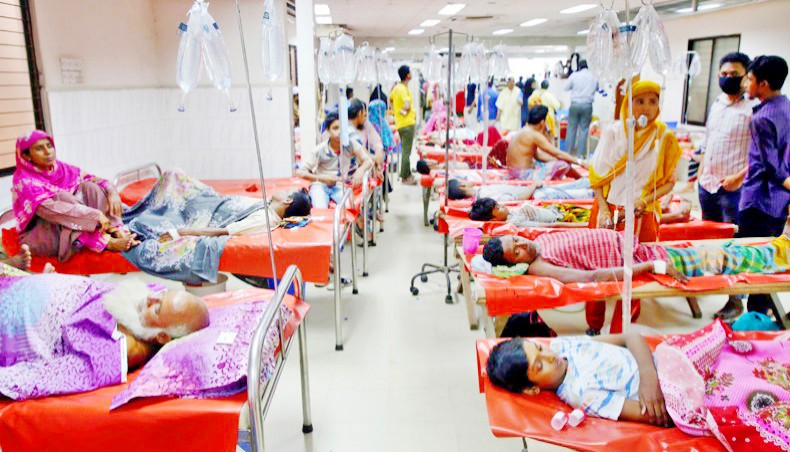 THE difference between 5.1 per cent and 5.4 per cent of the budget as allocation for the health sector in the outgoing and the next financial year is semantic which will actually address the rate of inflation only. On the other hand, Tk 10,000 crore having been allocated for Covid-related activities and services without any specification, except for buying vaccines, and not for production within the country, has room for more farsightedness.
This reflects on the poor understanding of the sector. The health and family welfare, and finance ministries could not make a hunch as to what, how and why this allocation should be expended specifically. It is like writing nine medicines for one disease that a naïve physician fails to unearth and, therefore, does not take any risk of misdiagnoses and prays that any one or two of them would do wonders.
The unappreciated fact is that development hinges on the health of people, including education, defence, public administration, transport, construction and communications sectors. Neither planning at neuronal level or labour at physical level will excel if people cannot keep their head and body straight above or below their neck. Innovations depend on sharp minds, which cannot stand on frail body. But does anybody care? Things moving any ways is not it. Never mind if a work, instead of five years, takes 15 to complete, compelling reallocation from other sectors to bridge the loopholes at the cost of the 'others'.
The finance minister's plan that Bangladesh will vaccinate 2.5 million people every month, if true, would mean completing the vaccination of 80 per cent of people in four years and a half while we will observe with interest Covid-19 fizzling out in about a year, albeit at a high cost of immediate death and some post-Covid-19 long-haul death. A road map was also expected on how the sinkholes in the procurement and administration of the vaccine and other sectoral logistics would be plugged and under what conditions the private sector will procure and sell the mRNA vaccines. Of course, the public sector cannot brace up to discard the present expanded programme of immunisation system and install a new system at an unprecedented and inefficient cost for the mRNA vaccines.
The claim that the health sector has been given a high priority will translate into reality only when the sector gets a sizeable allocation in terms of the gross domestic product or the gross national product. But, as we know, this is pitiably meagre. Even the poorest countries allocate at least 1 per cent of their gross domestic product for health care, running to as high as 17 per cent in the United States. European countries allocate about 10 per cent or above of their gross domestic product for the health sector. Even small South Asian countries like the Maldives and Bhutan allocate about 8–9 per cent of their gross domestic product for health care while India, Pakistan, Afghanistan and Myanmar, the lowest allocating countries in the world for the health sector, have equal to or even more than the budgetary allocation for health care in Bangladesh.
Bangladesh's achievement in the health sector, despite a poor allocation, has been termed an enigma and a miracle. Nay, a paradox! Becasue of the contribution of public health officials, particularly at grass roots and at the upazila level, for this mind-boggling feat. The quality of clinical care both in the public and the private sector has been tarnished for the greed and the lackadaisical commitment and risk-averting attitude of some clinical care providers and managers. A strong accountability framework needs to be developed and employed to address the problem. Monitoring and supportive supervision-based training and use of the skills obtained through the training is a sine qua non for ensuring the quality of clinical care in specific and health care in general.
No budget has ever emphasised enough this aspect while everybody in the country vents anger against poor care givers at large despite all-out dedication of most of them. The real heroes are not appreciated and there is no avenue for engendering external motivation in them. In the same breath, we would urge the finance ministry to allocate much more than 25 per cent of the budget for primary health care level. Our argument is as follows: more allocation for preventive and promotion of health will help to avoid the need for a sizeable allocation for higher level and will ensure better efficiency in goal targeted expenditure.
The health care budget did not take into account the need for deploying efficient and honest managers even in the face of recent debacles in health care management. The government needs to throw away bad apples from the basket at the first instance, without considering their connection, if it wants that the allocated budget is spent well. The budget should have given some road map to ensure that efficient managers are brought in to manage the budget efficiently and effectively so that value for money is ensured. We have made this manoeuvring very easy by creating functional positions aside revenue posts during our tenure in late 1990s, eg positions of line director and programme manager.
Even junior officers with adequate experience who showed some spark in their job can now be posted to these positions. But if allocation, which cannot be spent, is expected to serve one good purpose only — loud-mouthing of what a big allocation has been given to the health sector — it is a different ball game altogether. In fact, priorities in the sector should be the basis of the budget for the sector. These are never taken care of, however, in annual budget, eg the adequacy of human resources as the driving force of the sector.
Globally, the health sector is labour-intensive with appropriate skills mix. But for some unknown reasons, this bas remained in oblivion in Bangladesh for decade after decade. Is it deliberate to blame sectoral managers for poor performance? An adequate and skilled workforce is of dire necessity for health care management, for medical care, for technological field, for human resources development, for knowledge management including research evidence-based decision making and for policy formulation, planning and implementation of the plans efficiently and correctly. All this also needs to be backed up with necessary training too.
The fundamental scenario that is warranted at this juncture, based on our recent experiences from the way a pandemic has been managed and is being managed, is the need for a separate cadre of public health with an apropos infrastructure, bringing relevant organisations under one umbrella and setting rules and practices that will ensure efficient and effective internal and external coordination and collaboration for better results.
If the WHO recommendations of 1.28 service providers per 1,000 population is to be any beacon, for maternal and child health care alone, we need a 217,600-strong health workforce, in a ratio of 1:3:5 physicians, nurses and paramedics and it translates to 24,178 physicians, 72,533 nurses and 120,889 paramedics. The numbers do not include professionals for other forms of medical care, eg non-communicable diseases, which now take a 60 per cent death toll of people in Bangladesh. Non-communicable diseases-related services stand heavily on the intensive care and coronary care units. An ideal ratio of intensive care unit beds and the population is 13 to 100,000. If we stick to this standard, Bangladesh should require 22,100 ICU beds, even a fourth of which, 5,525, is a far cry.
We also need to consider that every ICU unit needs one trained nurse for two beds and one interventionist for 7–10 beds. Then there are estimates to be worked out for different categories of surgeons for Bangladesh. Bangladesh does not have an adequate number of psychiatrists, ophthalmologists, dentists, anaesthetists, radiologists and technicians (paramedics) besides skilled nurses in the categories. Bangladesh, strangely enough, also does not have a cadre of counsellors. For curative care, Bangladesh needs strong and efficient diagnostic capacity including the production of raw materials for pathologic laboratories.
The Institute of Public Health used to produce reagents for use in primary health care diagnostic laboratories in the public health sector. Instead of increasing its capacity to scale up the production of the reagents for supply to secondary and tertiary hospitals, the institute has turned into a maimed organisation and does not produce any sort of diagnostic supplies now. For preventive health care, the country needs vaccine development capacity. The institute used to produce vaccines for rabies and snakebite. Instead of modernising all this, decision makers let this institute recede further into desperation.
The pitiable condition of two other public health institutes need to be flagged as well. These are the Institute of Public Health Nutrition, which runs without any functional laboratory, and the National Institute of Preventive and Social Medicine, both of which were established in 1975. The latter was the only public health institute of higher learning in the country for about two decades. Neither a full-hearted effort was taken to improve the quality of the teaching faculty at NIPSOM nor its teaching faculty was expanded to an adequate and appropriate level. Instead, NIPSOM has been used as a political rehabilitation centre in some cases.
NIPSOM needs to be an autonomous university for public health. Necessary allocation is warranted for this purpose. Bangladesh also needs health scientists who know how to conduct a research validly in time-tested areas. Extensive training for them has no alternative. An additional area that we have advocated for since long and which has been brought to the front by Covid-19, is the issue of strengthening of the Institute of Epidemiology, Disease Control and Research as a replica of the Centre fore Disease Control and Prevention of the United States so that it can fulfil the expectations with which it was established in the mid-1050s.
For improving health care coverage, quality and equity, a health insurance scheme was piloted in three upazilas in Tangail. It is time now to consolidate the lesson learnt therefrom and scale it up. No mention of any such plan has been noticed in the budget proposal for the 2021–2022 financial year.
Incentive to the private sector for building hospitals in rural areas is a noble idea, but our past experiences in this regard are not satisfactory. Private-sector hospitals have been accused to inducing unnecessary buying of services. One glaring example is the conduction of 80 per cent of child delivery through Caesarian operation in private hospitals. It warrants that local public health management is strengthened adequately to keep an effective oversight on such hospitals.
Finally, the budget should not be for managing Covid-19 only but for addressing people's needs and aspirations from the sector for a given year. It needs to address the quantity and the quality of health care as per people's perennial requirements. We need to develop and examine the health part of the budget in the light of such aspirations. The budget is not only a tool for a given year but should build a platform for diving into the future as well.
AM Zakir Hussain is a former director, Primary Health Care and Disease Control, former director of IEDCR, DGHS, former regional adviser of SEARO, WHO and former staff consultant, Asian Development Bank, Bangladesh.
Want stories like this in your inbox?
Sign up to exclusive daily email
More Stories from Opinion