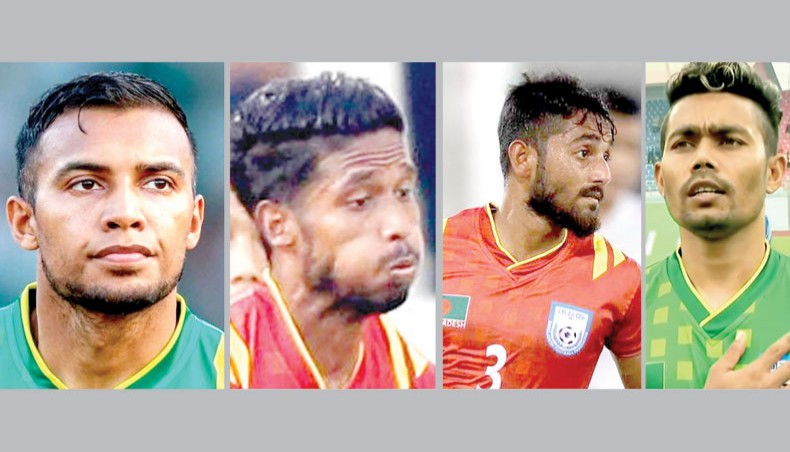 Bangladesh national football team coach Jamie Day faces an uphill task to form a playing eleven for their final FIFA World Cup 2022 and AFC Asian Cup 2023 qualifiers match against Oman after losing five key players through suspension and injury.
Bangladesh will wrap-up their Group E qualifiers campaign against Oman, a side 104-place ahead of them in FIFA rankings, on June 15 at the Jassim Bin Hamad Stadium in Doha.
But in that match Bangladesh will miss the services of captain Jamal Bhuiyan, defender Rahmat Mia and another midfielder Biplu Ahmed as they have received two yellow cards in two different qualifiers matches.
According to FIFA rules, if a player receives two cautions in two different matches, he will be automatically suspended from his team's subsequent match and the replacement quota places are restricted among the players listed in squad before the match.
Besides, they will also miss midfielder Mashuk Mia Jony, who suffered an injury in their last match against India on June 7 when Jamal, Rahmat and Biplu received a yellow card in their 0-2 loss.
Another midfielder Sohel Rana, who suffered an injury during Bangladesh's 1-1 draw against Afghanistan on June 3, has already returned home on Wednesday.
Earlier, Jamal and Rahmat received yellow cards in qualifiers matches against India and Oman in October and November 2019 respectively while Biplu was booked against Laos in a pre-qualifier game in June 2019 in Dhaka.
Day now has 16 outfield players at his disposal for the Oman tie and has to figure out a way to form a competitive team from the available options, which to him feels like a near impossible task.
'Yes, almost impossible [to form a strong team] for all the injuries and suspensions,' Day told New Age on Wednesday.
The Englishman also thinks that his decision to give new players some international experience in Nepal's tri-nation series in March will now pay dividends as a number of them will have to play against Oman.
'Good job I did in Nepal by giving chances to players to have some international experience...We just have to do the best we can in this situation,' he said
'We played them [Oman] with a full squad and lost 1-4 and now we are missing nine players from that squad…It is likely three or four players that will start who have only played one or two international games. It tells you the size of the task.'
Bangladesh are at the bottom place of the five-team table with two points from seven games.
Want stories like this in your inbox?
Sign up to exclusive daily email
More Stories from Football