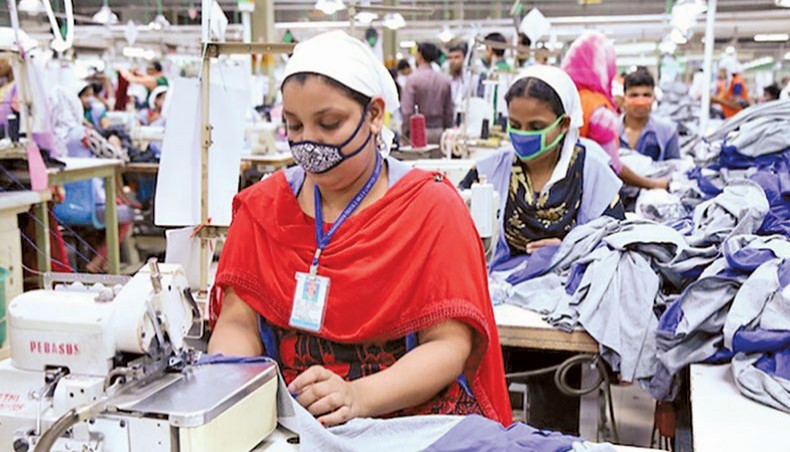 Only 4 per cent of readymade garment workers received transport facilities from their factories to get to the work during the Covid restrictions although the government asked factory owners to provide transport to the workers, said a survey report.
According to the survey jointly conducted by the South Asian Network on Economic Modeling and the Microfinance Opportunities, 92 per cent of workers surveyed reported that there was no change in their means of transport, indicating that the majority of workers usually travel to work on foot anyways.
The data, disclosed in the report, were collected from 1,285 workers during the survey conducted over the phone on April 23, 2021.
The survey focused on the Covid restrictions as well as on garment workers' awareness of and opinions about vaccination.
The report found that only 2 per cent of the workers had received the Covid vaccine before the survey.
In early April in 2021, Bangladesh entered yet another round of restrictions on public movement and business activities to contain the surge in Covid infections.
Despite the nationwide restriction, garment-producing factories were allowed to operate with strict guidelines in place.
In the absence of sufficient public transport, some apparel workers could not commute to their factories as they normally would.
Some 8 per cent of the workers surveyed said that they had to use alternative means to get to work.
'Only 4 per cent of the workers surveyed reported using factory-provided transport, indicating that not all factories took the necessary measures to ensure transport for those workers who are reliant upon it,' the report said.
According to the report, 76 per cent of the workers surveyed reported that they walk to their workplaces, while only 10 per cent use rickshaws, 6 per cent use auto-rickshaws, 2 per cent use bus and 2 per cent use CNG-run auto-rickshaws.
During the survey, 36 per cent of the respondents said that they were eligible to get vaccinated, 28 per cent were not eligible and 34 per cent did not know if they were eligible.
Overall, 69 per cent of the respondents said that they were willing to get vaccinated if they were eligible to get the vaccine whereas 31 per cent said that they did not want to get vaccinated.
The report indicated that only 22 per cent had information on how to gain access to a vaccination shot.
Bangladesh Garment Manufacturers and Exporters Association president Faruque Hassan told New Age that most of the RMG workers were not eligible for getting the Covid vaccine as their ages were below 40 years.
He said that the BGMEA had requested the government to bring all workers under vaccination on a priority basis considering their contribution to the economy.
Regarding the transport facility, the BGMEA president said that most of the workers lived near to factories and a very few of the workers needed bus service.
Want stories like this in your inbox?
Sign up to exclusive daily email
More Stories from Apparel