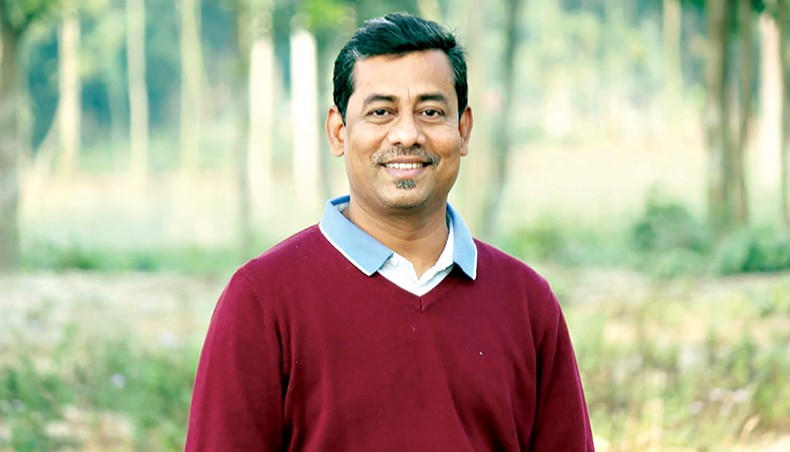 Singer and lyricist Mohammad Hasan Taimum Wahab Sainik, popularly known as TW Sainik, said that a song should not be evaluated based on views garnered by it.
'Nowadays, it has become a trend to evaluate a song based on the number of views it garners on social media and online platforms. The quality of a song should not be determined in this way as even a poor-quality song can garner a lot of views if it is accompanied by a well-made video,' TW Sainik told New Age.
'The music industry has become technology-oriented as a result anyone can compose music or make music videos easily. One should not aim to be an overnight success as at the end of the day only quality works will survive the test of time. Aspiring singers must be willing to sacrifice and work diligently because the heights by the renowned singers—namely Subir Nandi, Lucky Akhand, Niaz Mahmud Chowdhury, Runa Laila, Sabina Yasmin, Andrew Kishore, Sanjeeb Chowdhury and others—reached and kept were not attained by sudden flight,' added TW Sainik, who became a household name after singing the song Tumi Amar Ghum, which was released in his debut album named Tumi Amar Ghum in 2006. The song was penned by Sohel Arman and composed by Ibrar Tipu.
'When I recorded the song, Tumi Amar Ghum, I never thought that this song would garner such an overwhelming response and it is still popular. When I sing the song at a programme, the audience sings it as well,' said TW Sainik adding, 'Though the song Tumi Amar Ghum has become hit, many music lovers do not know that it was sung by me. I have often seen people next to me in the street singing it. Besides, it has also happened when others were credited for the song at events held at both home and abroad. I do not mind such things. I enjoy it when others sing my songs.'
His second album Ghumer Por Megh, composed by Bappa Majumdar, was released in 2015. He also spoke about his recent ventures.
'I have released a song titled Bhalobasay Harai recently. Besides, I penned and rendered a song Maa Amar Maa, which was tuned by SI Tutul marking Mother's Day. Both the songs have received a good response. Besides, I am working on a song which I want to release marking Eid-ul-Adha,' mentioned TW Sainik, who also shared his thoughts on the impact of Covid-19 on the music industry.
'There is no doubt that artistes have been hit hard by the Covid crisis and they are suffering financially. Some lucky artistes were able to perform in TV shows but the majority are struggling to make ends meet. Steps should be taken to help artistes. Both the government and private organisations should stand beside the artistes so that they can bounce back,' concluded TW Sainik.
Want stories like this in your inbox?
Sign up to exclusive daily email