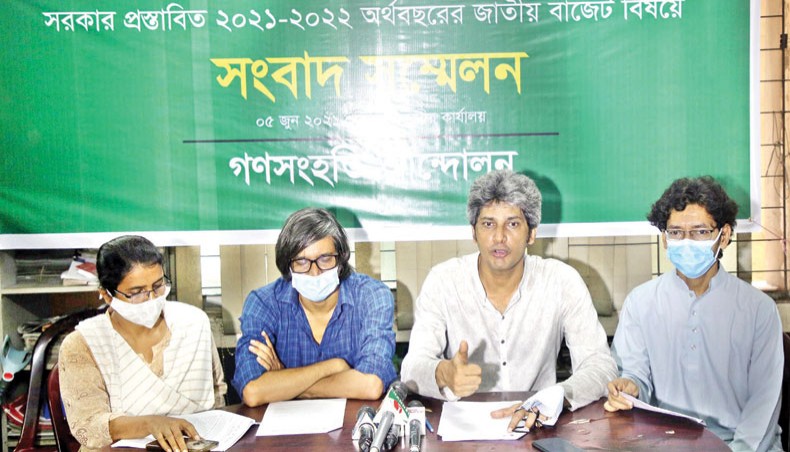 Ganasamhati Andolan on Saturday characterised the proposed national budget for 2021-2022 fiscal year a testament to the absence of the accountability of the government towards the people.
The government only tried to focus on satisfying the quarters, including the bureaucrats, that kept the government in power, complained the party.
The budget has failed to address the financial crisis of the poor people and the new poor, representing at least 30 per cent of the total population, who have been struggling hard due to joblessness or income loss since the outbreak of coronavirus, said the leaders of the party in its office in Dhaka.
Ganasamhati Andolan's chief coordinator Zonayed Saki said that the proposed budget was nothing but the government's existing policy to bypass the suffering of the people.
The policy of the government was supposed to be lowering the unproductive and unnecessary spending so that adequate focus could be given on spending for public purposes which would ultimately enhanced money supply to the people, he said.
'We have not seen any step to contain administrative expenditure or the spending for the mega project to support the low-income people,' said Zonayed Saki.
Speaking about the bulk allocation for the health sector, the chief coordinator said that the allocation was made without giving any detailed plan on how the money would be used, hinting that the fund will end up in misuse and corruption in persuasion of different lobbyist groups.
Ganasamhati Andolan chief also alleged that the budget would fuel income inequality.
'Had there been a minimum scope of voting, the government could not have shown such disrespect to the people who have become poor afresh due to Covid-19,' he said.
Stressing the role of the private sector in education, Zonayed said that the government completely ignored the role of the sector and no measures were taken to revive the private educational institutions which had already been closed down after the outbreak of Covid-19.
As like the bailout measures for the private businesses, the government should take bailout measures for the private educational institutions so that the institutes could revive otherwise it would bring grave consequences, he said.
Instead of taking any supportive measures, the government in the proposed budget slapped 15 per cent corporate tax on the private universities when many of the institutions are closed in an assumption that the government will not face any resistance, the Ganasamhati Andolan chief said.
At the briefing, Ganasamhati Andolan acting executive coordinator Abul Hassan Rubel presented a written speech on the proposed budget. He said that the budget had become a testament to the government's insensitivity towards the demand of the people.
Want stories like this in your inbox?
Sign up to exclusive daily email
More Stories from Politics