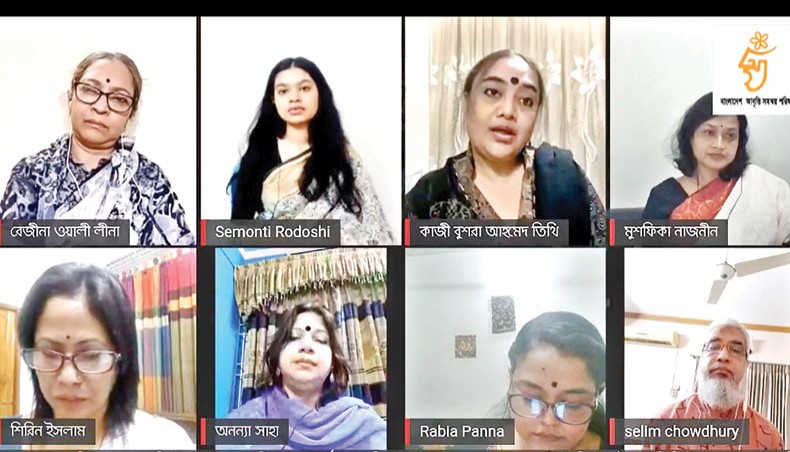 Bangladesh Abritti Samannay Parishad organised an online programme on its Facebook page on Friday to pay tribute to the late recitation artiste Farzana Islam Dina.
The programme titled 'Tumi Robe Nirabe' began at 8:45pm.
Bangladesh Abritti Samannay Parishad president and former cultural affairs minister Asaduzzaman Noor presided over the event where general secretary of the organisation Ahkam Ullah delivered the welcome speech.
Artistes namely Bhaswar Bandyopadhyay, Rezina Wali Lina, Tarannum Ahmed, Rafiqul Islam, Ananya Laboni, Shikha Sen Gupta, Anisur Rahman Rimon, Kazi Bushra Ahmed Tithi and others recited poems while Shirin Islam hosted the event.
A video comprising photographs of Farzana Islam Dina was streamed at the programme.
'We are going through a tough time. Many of our fellow artistes have passed away suffering from Covid-19. Farzana Islam Dina is one of them. I thank the organiser for arranging the programme,' said Asaduzzaman Noor.
'Farzana Islam Dina was the finance secretary of Katha Abritti Charcha Kendra and also a member of Bangladesh Abritti Samannay Parishad. We arranged today's programme to pay tribute to her,' said Ahkam Ullah.
Among others, Bhaswar Bandyopadhyay recited Sajanikanta Das's poem Sonar Pathor Bati, Tarannum Ahmed Kuhu recited Mahadev Saha's Bristi, Rezina Wali Lina recited Mahmuda Akter's Ekti Upakhyan and Rafiqul Islam recited Tagore's Sonar Tari at the programme.
Want stories like this in your inbox?
Sign up to exclusive daily email
More Stories from Literature