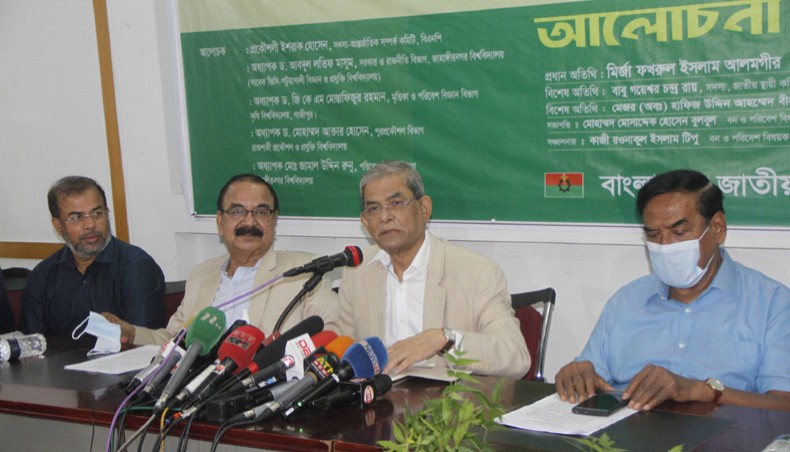 Opposition Bangladesh Nationalist Party secretary general Mirza Fakhrul Islam Alamgir on Saturday said that the government was giving more attention to mega projects than the health sector because the mega projects were creating scopes of 'mega corruption'.
Fakhrul made the remarks while addressing a discussion organised by the BNP marking the World Environment Day at the National Press Club.
'Why have the mega projects been taken at a time when saving the lives of people is more important? We [BNP] are requesting the government to give cash incentives to people hit by the pandemic but the government is not giving any attention to it,' Fakhrul said.
The government has no relation with people because it has not been elected by the people's vote, he said, mentioning that the government allocated more for the mega projects than the health sector in the proposed budget for the financial year 2021-22.
He said that there was no allocation for new poor in the proposed budget which was frustrating.
'There is a World Bank fund on climate change. They [government] got Tk 700 crore in the past few years. They returned half of the money to the bank and embezzled the rest half,' he said.
He said that the ultimate target of the government was to 'loot' and they had no activities but 'looting'.
'Commitments of political leaders, ruling party leaders and world leaders are needed for saving the environment,' he added.
Fakhrul asked party leaders not to get frustrated as he hoped that BNP chairperson Khaleda Zia would led the movement to 'restore democracy' after recovering from her illness soon.
BNP standing committee member Gayeshwar Chandra Roy said that the environment could not be saved due to the absence of an accountable government.
He said that the country was in the higher position in the index of corruption.
BNP vice-chairman Hafizuddin Ahmed said that autocrat rulers were not aware of the global warming.
He said that the fund on climate change did not reach the general people.
'The government is not taking any measure to save green as it is not a democratic one. Saving environment is not possible without establishing rule of law through a mass movement,' he said.
BNP forest and environment secretary Mohammad Mosaddek Hossain Bulbul and international affairs committee member Ishraq Hossain, among others, spoke at the programme.
Want stories like this in your inbox?
Sign up to exclusive daily email
More Stories from Politics