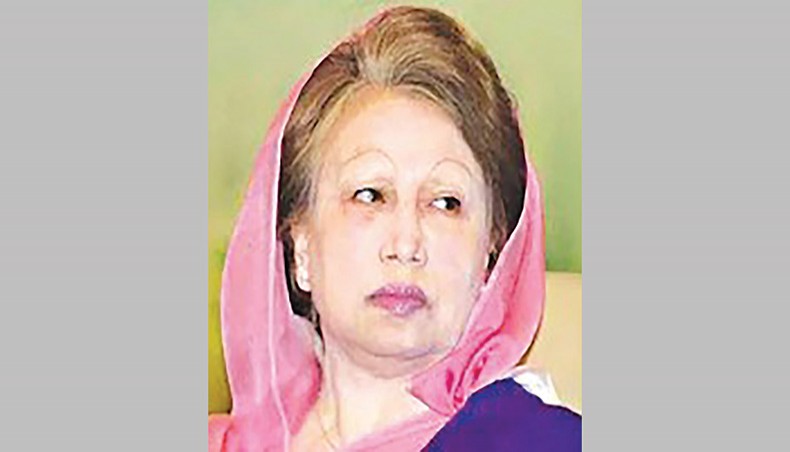 Bangladesh Nationalist Party chairperson Khaleda Zia's health condition has improved but she is still not out of risk, said the party's secretary general Mirza Fakhrul Islam Alamgir on Friday.
Addressing a press conference, Fakhrul said that former prime minister Khaleda Zia was shifted to a special cabin on Thursday from the Coronary Care Unit, but she was yet to be recovered.
'It can be said that she is still in a hazardous and vulnerable condition. Her heart, kidneys and lungs are at risk, though she does not have any lung infection. Still, she has heart and kidney problems,' said Fakhrul.
He said that Khaleda was affected by some post-Covid complications while staying in the CCU for a long time.
Khaleda Zia, who tested positive for Covid-19 on April 11 and tested negative on May 5, was taken to the CCU on May 3 with respiratory problem.
She was admitted to the hospital on April 28.
According to her family and doctors, alongside post-Covid complications, Khaleda also suffers from severe and uncontrolled rheumatoid arthritis, diabetes mellitus, hypertension, cough-variant asthma and an autoimmune disorder that damages moisture-producing glands making it difficult to produce saliva and tears, with a need for bilateral knee replacement.
Khaleda, who was convicted in two cases, has been staying at her Gulshan house since her release from jail on March 25, 2020, on an executive order on conditions that she would take medical treatment at home and would not leave the country.
BNP demands unconditional release of Khaleda to send her abroad for advanced treatment but the government refuses to accept the plea showing legal obligations.
Want stories like this in your inbox?
Sign up to exclusive daily email
More Stories from Politics