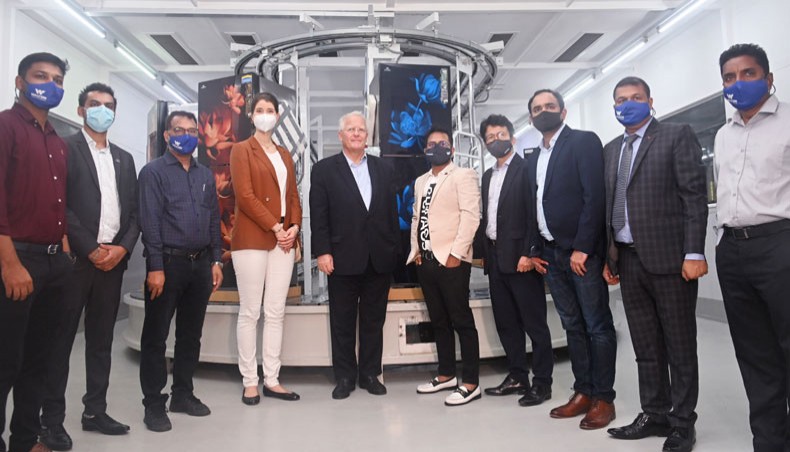 German ambassador to Bangladesh Peter Fahrenholtz lauded Bangladeshi electronics brand Walton and hoped that it would become a global market player.
'Bangladesh has made a rigorous progress in the past few years. A Walton-like industry is a showcase of that progress,' the German ambassador made the remarks after visiting Walton Hi-Tech Part at Chandra in Gazipur on June 3, said a press release on Friday.
Peter said, 'Walton has developed so well. I am very much impressed. Walton has a vision to be a global player through producing quality products. Today, I witnessed that Walton invested good enough on advanced technologies' machineries mostly from Germany to produce quality products. I hope that Walton would be a global market player.'
Visiting the Walton factory, deputy head of mission of the German Embassy in Dhaka Constanza Zahringer said, 'I was surprised. Walton is a well-structured factory in Bangladesh.
Earlier, the German ambassador and the deputy head of mission visited refrigerator, compressor, LGP and LDP, motherboard and TV manufacturing units as well as the products' display center at Walton Hi-Tech Park.
On Thursday morning, Walton Hi-Tech Industries Limited managing director Golam Murshed welcomed the German envoy and the deputy head of mission with a flower bouquet.
WHIL deputy managing directors Humayun Kabir and Alamgir Alam Sarker, Walton's International Business Unit president Edward Kim, executive directors retired colonel Shahadat Alam, Uday Hakim, Yusuf Ali, Firoj Alam, Amin Khan, Yeasir Al Imran, Rakib Uddin, Walton's European business head Tawseef Al Mahmud, and deputy executive director Rezaul Islam Minar, among others, were also present.
Want stories like this in your inbox?
Sign up to exclusive daily email
More Stories from Miscellany