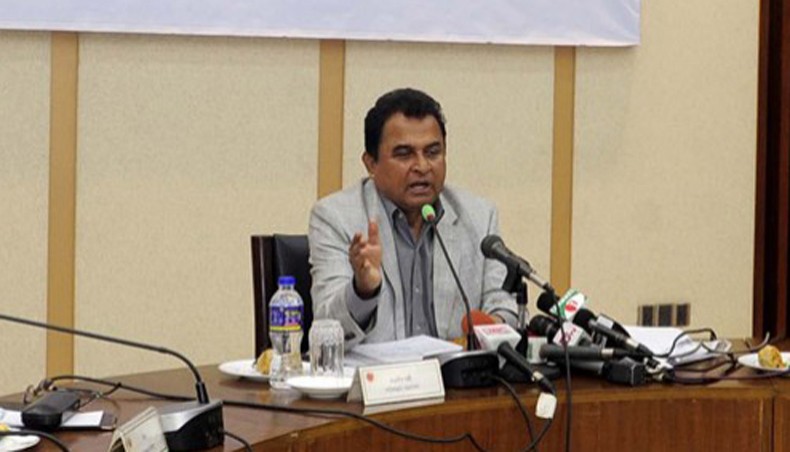 Finance minister AHM Mustafa Kamal announces today the national budget for the next fiscal year 2021-2022 amid the unprecedented adverse impact of the ongoing Covid outbreak on the economy that has caused income and job loss of households, production loss of small and medium enterprises and worsening poverty and inequality situation.
Major economic indicators, including overall budget implementation, execution of annual development programme, revenue generation, private sector investment, remittance and export earnings and capital machinery import, have so far recorded mixed performance in the outgoing FY2021.
Implementation of the health sector budget has appeared as the most worrying issue in FY21.
Although the government came up with a number of initiatives to mitigate the sufferings of people and expedite the economic recovery, the much-expected turnaround is still not there, independent think-tanks and businesses said.
In this context, the government should adopt an expansionary budget with higher allocation for health, education, social safety net, agriculture, small and medium businesses and import-substitute domestic industries to expedite the recovery process and save lives and livelihoods of people, particularly new and urban poor and minimise the growing inequality, they said.
They also recommended focusing on redistribution rather than economic growth.
Poverty, inequality and employment should be given the highest priority in the forthcoming budget, they added.
The Centre for Policy Dialogue in its latest report on the state of the Bangladesh economy in FY 2021 (third reading) released on Monday said that the government needed to formulate a medium-term recovery plan as the recovery from the entire fallout would take much longer than expected – susceptible to changes in the nature of Covid-19 and the availability and effectiveness of vaccines.
The national budget for FY2022 should focus more on equity, redistributive justice, protecting jobs and saving lives, and less on economic growth, it said.
South Asian Network on Economic Modeling executive director Selim Raihan on Sunday said that the government needed to shift its focus towards poverty eradication, reduction of inequality and generating employment.
Greater allocation in health, education and agriculture is necessary along with efficiency in utilisation, he said.
Allocation of social safety net should incorporate the new poor, urban poor and safety nets should be targeted towards employment generation through small-scale low interest loans, he added.
Weak implementation of public expenditure continues as implementation of public expenditure stood only at 42 per cent until April 21, which is a matter of grave concern, according to the CPD.
Only 48.7 per cent of the original annual development programme was implemented in the first 10 months of the year while the pace of implementation remained the lowest in the health services division with only 31.3 per cent during the period.
Domestic resource mobilisaiton also did not see a boost despite a 12.87-per cent growth in the NBR tax collection during July-April period of FY21.
Private sector credit did not pick up despite stimulus packages as it stood only at 11.4 per cent up to March and lagged behind the target despite several stimulus packages in the form of subsidised interest rates.
Import payments for capital machinery declined by negative 12.8 per cent, pointing towards the depressed investment scenario prevailing amid the pandemic.
The net foreign direct investment also declined by 8 per cent during July-March.
Export earnings, however, showed a limited-scale rebound with 8.7 per cent growth in July-April based on modest growth in knitwear products export growth.
Foreign exchange reserve stood at $ 45.054 billion up to May on higher inflows of remittance which stood at $22.84 billion during July-May.
According to a study conducted by SANEM, the pandemic caused the national poverty rate to increase 42 per cent in 2020 from 21.6 per cent in 2018.
It also said that inequality increased as consumption expenditure Gini coefficient increased to 0.33 in 2020 from 0.31 in 2018 while the ratio of income share between the richest 5 per cent and the poorest 20 per cent households increased from 2.05 in February 2020 to 2.45 in November 2020.
Federation of Bangladesh Chambers of Commerce and Industry president Md Jashim Uddin on Wednesday said that the economy performed mixed in the outgoing fiscal year as many businesses, including SMEs, retailers, services sectors, employment generation and poverty alleviation efforts affected the most.
Remittance earnings posted a record while export earnings started rebounding but revenue generation could not pick up, he said.
ADP implementation remained one of the weakest area, he said, adding that the government should emphasise boosting capacity of budget implementation along with increasing allocation.
The government also needs framing future plan for expediting recovery and saving lives and livelihood, he added.
Former Dhaka Chamber of Commerce president Abul Kasem Khan said that the impact of Covid-19 on economy was expected but the economic indicators performed mixed in the outgoing fiscal year.
Domestic demand declined as people lost their jobs and income while many SMEs were forced to shut down and large businesses were forced to squeeze their operations.
Although the business confidence started rising from January, it may be affected due to the second wave of the infection.
He said that the government should announce specific plan on the vaccination, how to manage the second wave and economic recovery.
Economic recovery will depend on better Covid management, he said.
Want stories like this in your inbox?
Sign up to exclusive daily email
More Stories from Commodities