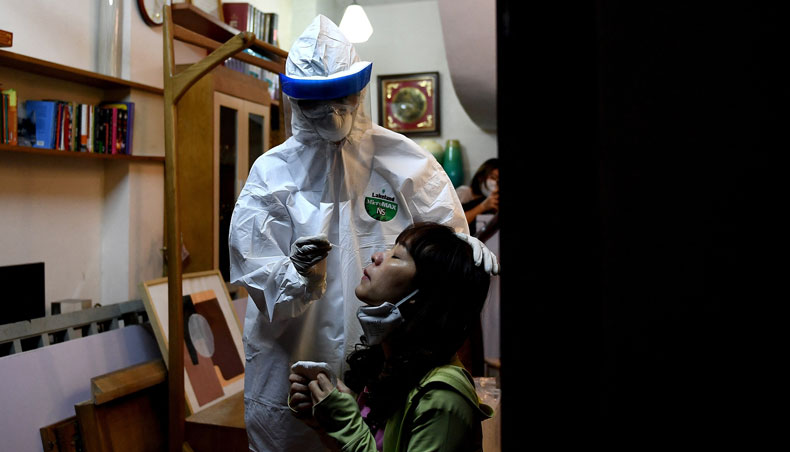 Vietnam has discovered a new Covid variant which spreads quickly by air and is a combination of the Indian and British strains, state media reported Saturday.
The country is struggling to deal with fresh outbreaks across more than half of its territory including industrial zones and big cities such as Hanoi and Ho Chi Minh City.
More than 6,700 cases including 47 deaths have been reported in Vietnam — the lion's share have occurred since April.
'We have discovered a new hybrid variant from the Indian and the UK strains,' health minister Nguyen Thanh Long was quoted telling a national meeting on the pandemic Saturday.
'The characteristic of this strain is that it spreads quickly in the air. The concentration of virus in the throat fluid increases rapidly and spreads very strongly to the surrounding environment.'
He did not specify the number of cases recorded with this new variant but said Vietnam will soon announce the discovery in the world's map of genetic strains.
There were seven known coronavirus variants in Vietnam before Long's announcement, according to the Ministry of Health.
The communist country has previously received widespread applause for its aggressive pandemic response, with mass quarantines and strict contact tracing helping keep infection rates relatively low.
The new round of infections has made the public and government fearful and authorities quickly moved to place strict limits on movement and business activity.
Cafes, restaurants, hair salons and massage parlours as well as tourism and religious spots have been ordered to close in various areas of the country.
Meanwhile, a neighbourhood in the southern Chinese city of Guangzhou has been locked down as officials rush to quell an uptick in cases in the area.
The industrial hub north of Hong Kong home to nearly 15 million people has reported 20 new cases of the coronavirus in the past week.
A notice by the Guangzhou municipal health bureau issued Saturday identified five streets in Liwan district in the city centre as 'high-risk areas' and ordered residents to stay indoors until door-to-door testing is completed.
Markets, schools and entertainment venues in the area were shut.
The city government has rushed to conduct mass testing and about 700,000 people had been tested by Wednesday.
Malaysia announced on Friday it will impose a nationwide lockdown for the first time in over a year as it battles a rapidly escalating coronavirus outbreak that has strained the country's healthcare system.
Officials believe more infectious variants have contributed to the surge, as well as gatherings in the Muslim-majority country during the holy month of Ramadan and Eid-ul-Fitr holiday earlier this month.
After a new daily record of 8,290 infections Friday, prime minister Muhyiddin Yassin's office announced the entire country would enter a 'total lockdown' from Tuesday.
This involves the 'complete shutdown of all social and economic sectors', with only businesses deemed essential allowed to operate, it said in a statement.
The restrictions will be in place initially until June 14.
The novel coronavirus has killed at least 35,24,960 people since the outbreak emerged in China in December 2019, according to a tally from official sources compiled by AFP at 10:00 GMT on Saturday.
At least 16,93,79,970 cases of coronavirus have been registered.
The vast majority have recovered, though some have continued to experience symptoms weeks or even months later.
The figures are based on daily reports provided by health authorities in each country. They exclude revisions made by other statistical organisations, which show that the number of deaths is much higher.
The World Health Organisation estimates that the pandemic's overall toll could be two to three times higher than official records, due to the excess mortality that is directly and indirectly linked to Covid-19.
A large number of the less severe or asymptomatic cases also remain undetected, despite intensified testing in many countries.
On Friday, 12,237 new deaths and 5,24,350 new cases were recorded worldwide.
Based on latest reports, the countries with the most new deaths were India with 3,617 new deaths, followed by Brazil with 2,371 and United States with 774.
The United States is the worst-affected country with 5,93,962 deaths from 3,32,40,431 cases.
After the US, the hardest-hit countries are Brazil with 4,59,045 deaths from 1,63,91,930 cases, India with 3,22,512 deaths from 2,77,29,247 cases, Mexico with 2,23,072 deaths from 24,08,778 cases, and the United Kingdom with 1,27,768 deaths from 44,77,705 cases.
Want stories like this in your inbox?
Sign up to exclusive daily email