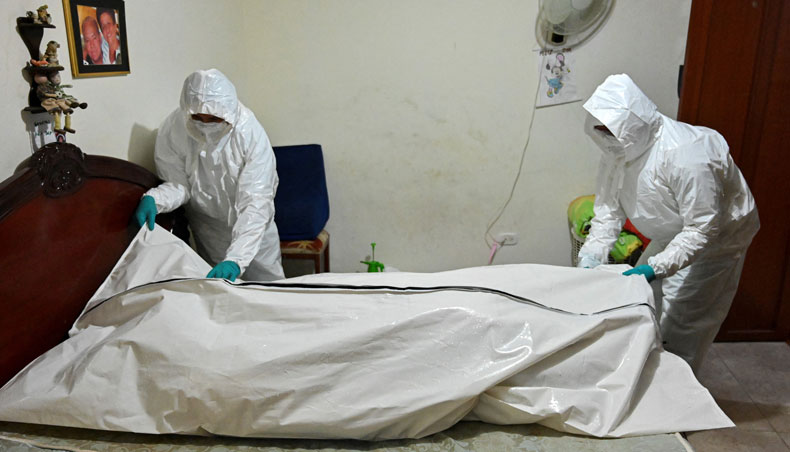 The pandemic continues to devastate countries across the world. In fact, the global Covid-19 death toll has now topped 3.5 million.
As of Friday morning, the global caseload and fatalities stand at 168,769,079 and 3,507,115, respectively, according to the latest Covid data released by Johns Hopkins University.
So far, 1,772, 270,475 vaccine doses have been administered across the world.
The US, the world's worst-hit country in terms of both cases and deaths, has logged 33,217,720 infections with 593,282 fatalities so far, as per the university data.
India has been experiencing a staggering Covid-19 situation, as in recent weeks the country has been counting deaths of more than 4,000 people a day.
The country has recorded 27,369,093 cases and 315,235 deaths from the virus to date.
Reports of post-Covid infections like black fungus have made the situation worse.
Brazil on Thursday reported 2,130 more deaths from Covid-19, raising the national count to 456,753, the Ministry of Health said.
A total of 66,722 more infections were detected, raising the nationwide tally to 16,342,162, the ministry said.
Brazil has the world's second-highest Covid-19 death toll, after the United States, and the third-largest caseload, following the United States and India.
Bangladesh logged 22 more Covid-related deaths in 24 hours till Thursday morning, pushing up the country's fatality count to 12,480.
Besides, 1,292 more people were found positive for Covid-19 after testing 15,915 samples during the period.
With the fresh cases, the country's total caseload reached 7,94,985.
Bangladesh launched its vaccination drive on February 7 with Oxford-AstraZeneca doses acquired from India's Serum Institute.
The administration of the first dose has, however, remained suspended since April 26.
Also, the country, the prime recipient of the Oxford-AstraZeneca vaccine, has suspended the registration for Covid jabs due to a shortage amid a delay in the timely arrival of shipments from India.
However, the administering of the first dose of the Chinese Sinopharm vaccine against Covid-19 began in Bangladesh on Tuesday.
Cabinet okays Sinopharm jab procurement
The Cabinet Committee on Public Purchase on Thursday gave its final approval to a proposal of the Health and Family Welfare Ministry to procure 1.5 crore Sinofarm vaccine doses.
As per the approval, the Health Services Division of the Health and Family Welfare Ministry will procure a total of 15 million vaccine doses in the next three months – June, July and August.
Finance minister AHM Mustafa Kamal presided over the Cabinet body meeting.
'Each month, five million doses of the vaccine will be imported from the Chinese firm,' Shahida Aktar, additional secretary to the Cabinet Division, told reporters.
Want stories like this in your inbox?
Sign up to exclusive daily email