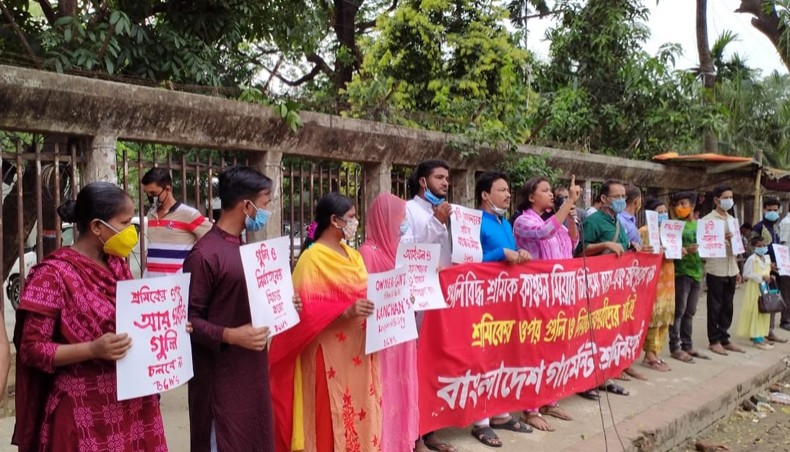 Leaders of garment workers' rights bodies on Wednesday demanded compensation for the treatment of wounded garment worker Kanchan Mia and others who suffered bullet injuries in a police firing during a demonstration on May 10.
Bangladesh Garment Sramik Samhati held a protest rally, where its president Taslima Akhter said that Kanchan was one of 20 injured workers of Creative Collection Limited owned by Hameem Group.
Taslima also demanded identification and punishments of the police personnel who fired on the workers during peaceful demonstrations in Gazipur.
Kanchan has already had a major operation in his digestive system and is now undergoing treatment at Dhaka Medical College Hospital, Taslima said, and his doctors predicted that he may need another operation.
An eight-member family of Kanchan is now going through acute financial crisis to run the family and is unable to afford treatment expenditures, she added.
Taslima demanded Tk 50 lakh in compensation for Kanchan and treatment expenditures for other wounded workers from the owners of the garment factory according to 'the ILO convention'.
Garment Workers' Trade Union Centre general secretary Joly Taluder, Garment Sramik Oikya Forum general secretary Shahidul Islam Sabuj, Garment Sramik Samhati general secretary Julhasnayeen Babu, Kanchan's eldest son M Mostakim and others spoke at the rally.
On May 10, the workers of the factory were holding peaceful demonstrations demanding 10-day Eid holiday as they were in work during restrictions imposed to contain Covid-19 and to disperse them, police opened fire and charged batons, injuring over 20 workers.
Want stories like this in your inbox?
Sign up to exclusive daily email
More Stories from Country