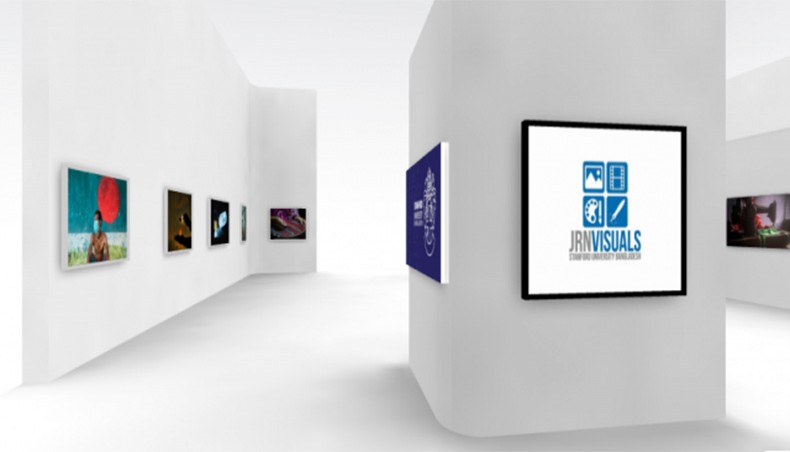 The Covid situation has dealt a huge blow to the country's art scene, slowing down the growth of the galleries while hampering all other collective activities involving creation, staging and sale of art.
In the absence of a fully fledged art market where artists, gallerists, curators and art collectors work together to determine both the aesthetic and monetary values of art and ensure sustainability of the artists and galleries, art in Bangladesh now faces several new barriers including the challenge of attracting art lovers and buyers to online exhibitions.
Gallerists and curators said that online exhibitions can only attract five to 10 per cent buyers and art collectors compared with exhibitions at galleries as online art market is yet to attract connoisseurs.
Galleri Kaya held a 16-day exhibition titled 'Flowing and Static', which ran its course from February 28 to March 16. As it discouraged art connoisseurs to physically visit the space, the response from them was lukewarm.
Galleri Kaya director Goutam Chakraborty said, 'We are running our galleries like aeroplanes flying in the sky without pilots. After the government imposed restrictions on public movement and business operations from April 5 due to the second wave of the coronavirus infections, we have been passing through a tough time. Still we did not encourage anyone to visit our gallery taking risk of getting infected with Covid-19.'
'We started sharing PDF catalogues of our exhibitions through email and other mediums before the emergence of Covid-19 situation in March 2020. Only 5 per cent buyers and art collectors are collecting artworks online. However, many people are using Facebook for various activities. It will take time to establish online art galleries in Bangladesh as we are new to it,' Goutam added.
Kalakendra curator Wakilur Rahman said, 'We are now in confusion as the government is discouraging public gatherings due to the coronavirus situation. It is difficult to run a gallery without activities as we have been running our gallery in a rented space. The situation is also taking a toll on our mental health.'
'It is true that we have not given importance to online platforms. We love to work in physical spaces instead of virtual ones. As the coronavirus situation has lasted more than one and a half year, we are being forced to do our activities online. But we did not get satisfactory response from the art collectors. Our pattern of artworks and way of curation does not attract art collectors online,' said Wakilur Rahman, adding, 'The online response is not satisfactory at all. If the situation improves, we will come up with some unique exhibitions.'
Edge Gallery held a month-long duet exhibition titled 'Colours of Tradition' during the government imposed restrictions on public movement and business operations. The exhibition was held from April 3 to May 8.
Edge Gallery manager Abu Soyeb Jewel said, 'We held an exhibition during the lockdown following Covid-19 health safety guidelines. Visitors had to make an appointment before visiting the gallery. The exhibition received poor response as it only attracted 10 per cent people compared with events held during normal times. We have been holding exhibitions but buyers are less incline to acquire artworks nowadays. We have an e-commerce website but the online market in our country has not developed yet.'
'We are in a better position compared with the other galleries in Bangladesh. We are maintaining six feet distance between visitors when collectors and art lovers come to visit the gallery. No one is even allowed to enter our building without wearing mask,' Jewel added.
Dwip Gallery manager Kazi Tahsin Agaz Apurbo said, 'Covid-19 forced many galleries to exhibit their works online. Dwip Gallery did not operate online much during the health crisis. We need more time to establish an online art market in Bangladesh.'
'If we want to establish online art market, we need proper patronisation as every gallery need to hire online experts. However, art collectors and buyers are not used to visiting exhibitions online. I think that only financially solvent art galleries can operate virtually,' Apurbo added.
Want stories like this in your inbox?
Sign up to exclusive daily email
More Stories from Exhibition