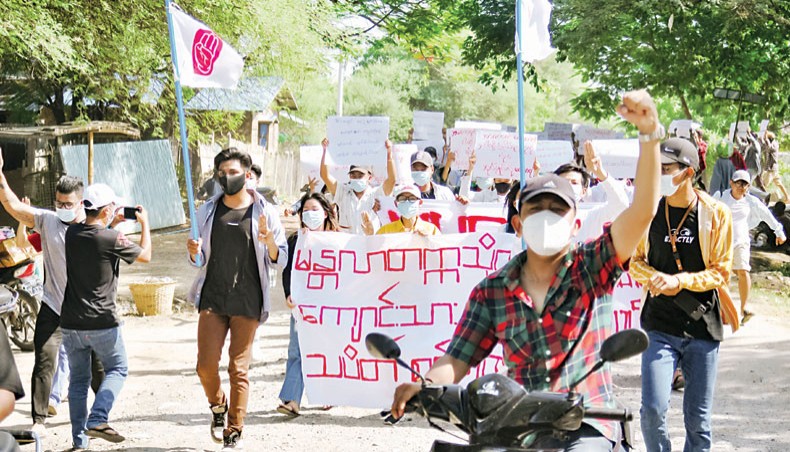 The Myanmar's Kachin Independence Army attacked two military and police security outposts and killed at least two police officers at the Hkamti jade mine, Sagaing Region early Saturday morning, reports The Irrawaddy online.
Residents said that the KIA set fire to both military and police outposts in Machyang Hka and Nam Si Bum villages at the Hkamti jade mine after the attack.
The villagers said the two compounds are owned by the Myanmar Economic Holdings Public Company Limited, one of two major conglomerates controlled by the coup leaders. MEHL, Myanmar Economic Corporation and its subsidiary are heavily involved in the jade mining business in the country's major jade hub in Hpakant and Hkamti townships.
A KIA officer on the ground told The Irrawaddy the KIA captured at least seven injured police during the attack. However, The Irrawaddy could not verify the claim.
The office of the commander-in-chief of defense services had not made an announcement relating to the attack in Hkamti Township as of Saturday afternoon.
Clashes were also reported between the KIA and military regime troops in Momauk Township on Saturday morning. The residents said five houses in Myothit village were burned down after a regime air raid on Friday at about 8:00pm.
Myanmar's junta chief has said deposed civilian leader Aung San Suu Kyi is in good health and will appear in court within days during the general's first television interview since the coup, reports AFP.
Min Aung Hlaing, who toppled Suu Kyi in a February 1 putsch, gave a two-hour interview to Hong Kong's Phoenix Television on Thursday, with the full programme yet to air.
'Aung San Suu Kyi is in good health. She's been staying at home and will appear in court in a few days,' he said in an excerpt released on social media Saturday.
The general was speaking in Burmese and his comments were translated into Chinese by the network.
Asked about Suu Kyi's political achievements, the military leader said: 'In short, she has done everything she can.'
Suu Kyi has not been seen in public since she was placed under house arrest.
She has been hit with a string of criminal charges including flouting coronavirus restrictions during last year's election campaign and possessing unlicensed walkie-talkies.
The most serious charge alleges that she violated the country's colonial-era Official Secrets Act.
Suu Kyi is expected to appear in person in court on Monday for the first time, after weeks of delays to her legal case.
Her legal team have faced an uphill battle to meet with their client in private.
Want stories like this in your inbox?
Sign up to exclusive daily email