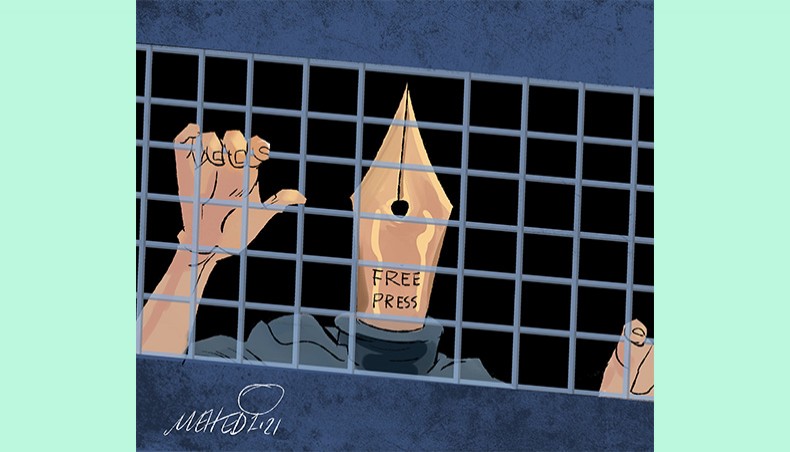 Bangladesh caught the attention of the international media when the law enforcement agencies arrested a prominent journalist, Rozina Islam on May 17 who has published a string of reports exposing financial irregularities of the health ministry during the pandemic. The case accused her of capturing 'secret' government documents. Rights activists and journalists took to the street immediately demanding her bail and punishment for the corrupted health ministry officials. Md Mashiur Rahman talks to a few young journalists about the condition of press freedom in Bangladesh
IN A people's republic where people are the owner and the source of all power, press freedom is pivotal. It is not important because it looks great if a country has so many media outlets, rather it is important because the media outlets provide the people with enough information so that people can practice their rightful power.
In a country like Bangladesh where the institutionalisation of democratic practices is still in developing condition, media outlets not only have the duty to empower people with information but also play the role of the schools of democracy that help people to learn their rights.
The word 'try' is important for understanding the situation of the condition of press freedom in Bangladesh. According to Reporters without Borders, an internationally recognised organisation that ranks Bangladesh as number 152 out of 180 countries in terms of press freedom — 'self-censorship [in Bangladesh] has reached unprecedented levels because editors are justifiably reluctant to risk imprisonment or their media outlet's closure'.
Thanks to the Digital Security Act 2018 and colonial acts like the Official Secrets Act 1923 under which Rozina Islam, a reputed investigative journalist of a leading Bangla daily was arrested on May 17.
New Age Youth talked to a few young journalists working in different media outlets to know their take on the situation of press freedom in Bangladesh. It was noticeable that most of them were self-censoring their thoughts.
Arifuzzaman Tuhin, a journalist working at Daily Desh Rupantor says no media in the contemporary world enjoys full press freedom if we approach the situation from an academic point of view. As all the media is bound to their owners and donors.
'So, publishing anything without any obstacle is still a utopia and we need to bring fundamental political and structural change if we want to ensure ideal press freedom,' says Arifuzzaman Tuhin while adding, 'But the condition in Bangladesh in terms of press freedom is one of the worst in the world in the given context. And the main reason behind that is the self-censorship imposed by the laws like Digital Security Act. We journalists are always frightened to express the truth. And to change the situation we first eliminate the reason behind the fear journalists are experiencing nowadays'.
Jibon Ahmed, a photojournalist working at Daily Manabzamin, defines press freedom as 'the right to publish everything true and everything that happens around us without any bias.' 'To me, freedom is primarily a fair workplace where seniors are uncompromising about the ethics of journalism and supportive to their juniors. If the seniors compromise, what we can do' says Jibon.
According to him, a journalist must know how a report would impact society and therefore a journalist must think with responsibility while presenting something to the public. To be someone responsible, Jibon Ahmed thinks, being historically conscious and philosophically sound are necessary.
By historical consciousness, he means the journalists' knowledge about the historical legacy of journalism at home and abroad. 'A journalist must know how journalists worked during 1971 or in the 90s and remained ethical and loyal to the contemporaneous social cause,' he says.
Sajib Ghosh and Farhan Habib, two young journalists New Age Youth interviewed also insisted on the importance of journalists being responsible and discussed the issue from two different points of view.
Sajib Ghosh, a journalist at Daily Kaler Kantho, agrees that the reality sometimes makes the media houses biased, but the journalists are still capable of uncovering the truth within the existing settings.
'I cannot tell about others but I have good experiences with my workplace. My reports on corruption did not face any obstacles to get published,' said Sajib Ghosh. He thinks the journalists' responsibility is central to the idea of press freedom and he does not think that the condition of Bangladesh in terms of press freedom is that bad despite its low score in the international ranking.
Farhan Habib, a freelance journalist who is currently working at Ekota TV thinks responsible journalists must get organised and challenge the mainstream media houses as the houses often suffer from self-censorship due to their owners' interest. While defining press freedom he said 'I think of press freedom from the people's point of view. When people face injustice in any form they come to the journalists and press freedom is the freedom to guard the people's right to get without facing any obstacle. A democratic state must respect everyone's right to give their opinion freely'.
Pointing out the fact that the journalists in Bangladesh do not feel secure with their job, Farhan opined the journalists should think of doing their work in 'activist form'. They can create alternative media outlets that are not bound to any corporations.
The importance of journalists being organised and democratisation of the journalists' association is also pointed out by the other interviewees. Nowadays in Bangladesh, we see journalists are begging for votes for particular political parties.
'Having a political outlook is not a problem, but a journalist should not publicly express her/his loyalty to a particular political party as it put their journalistic credibility in question,' opined Jibon Ahmed.
'You will see that the journalist leaders nowadays are openly declaring themselves as loyal to certain political parties. It should not be like that. Political ideology should not be the basis of a journalist's identity,' said Sajib.
All the journalists we interviewed have agreed upon one issue that it is during the 1990s when the business corporations started to own large media houses, and after that, the journalists started to become less free. Therefore, they think it is not fair to blame the state for all the problems journalists are facing nowadays. But they also think that it would be also unfair if we do not accuse the state of intimidating the journalists through different maliciously formulated colonial standard laws.
Laws are necessary and a state has the right to secrecy to some extent, think our interviewees. But they also think that if something is kept secret which goes against the peoples' interest and if any law makes people frightened instead of providing them security and ensuring their constitutional fundamental rights, then there is something severely wrong with the existing structure. We must defend the fundamental democratic right of the people, the freedom of expression, as without doing so no system can be democratic in any sense.
And therefore, we demand the immediate and unconditional release of Rozian Islam, an award-winning investigative journalist, who has empowered the people by bringing out the truth about the irregularities in the health sector, especially in these trying times.
A responsible journalist like her is not only important for the media house in which she works, but also important for the nation which is suffering from shortness of breath by the unthinkable amount of corruption. We must breathe.
Md Mashiur Rahaman is a contributor to the New Age Youth.
Want stories like this in your inbox?
Sign up to exclusive daily email