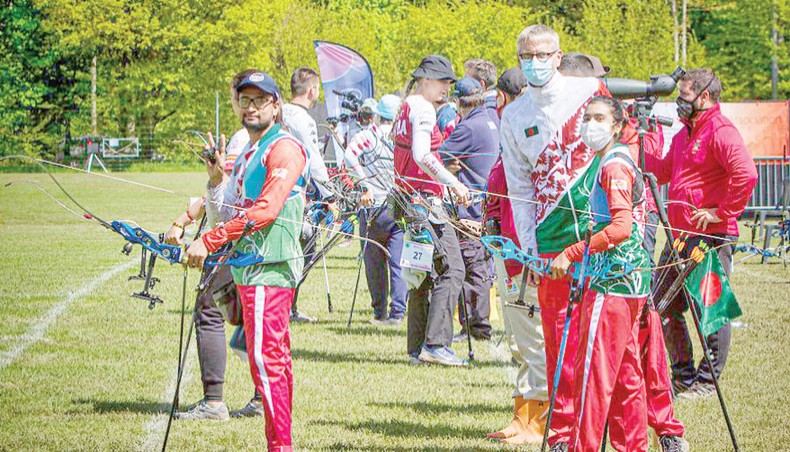 Bangladesh archers Diya Siddique and Ruman Shana could hardly contain their excitement after confirming their final berth in the recurve mixed team event of the Archery World Cup stage-two in Lausanne, Switzerland on Thursday.
The pair will now fight in the gold medal decider against Netherlands pair Gabriela Schloesser and Sjef Van Den Berg on Sunday.
Diya and Shana defeated Canada's pair of Stephanie Barrett and Brian Maxwell, 5-3, in the semis on Thursday to become the first pair from Bangladesh to play the gold medal match in the game at a big stage.
'I am so excited…I can hardly believe that I will play a final. It's so shocking!,' said 17-year-old Diya after their win.
Shana, who earned a quota place in the Tokyo Olympic Games at the 2019 World Archery Championships in Hertogenbosch, added another accolade in his trailblazing career in Switzerland when he beat experienced Italian Mauro Nespoli in the bronze medal match.
Shana's victory put Bangladesh on the championship podium for the first time in the competition and he has an opportunity to do it again along with Diya.
'I don't know how to explain it. It's the first time Bangladesh made the final,' Shana said.
'I'm really happy and grateful to my coach, my teachers, my family and my partner, who was supporting me so much,' he added.
The pair of Shana and Diya, who were seeded number 17, proved their mettle throughout the competition as they beat top-seeded Germany, 5-1, in the second round and then ninth-seeded Spain, 5-4, in the quarter-final before routing Canada in semis.
Bangladesh beat Iran, 5-3, in the first round.
The duo now will have to topple the second-seeded Netherlands pair to win the gold, failure to do so will earn them a silver medal, which would also be the country's biggest achievement in the event.
Meanwhile, on Friday, Bangladesh team comprised of Shana, Ram Krishna Saha and Tamimul Islam were eliminated from the recurve men's team event after losing against Spain team —Miguel Alvarino Garcia, Daniel Castro and Pablo Acha – in the second round by 4-5 set points.
Bangladesh team got a bye in the first round against Canada.
Want stories like this in your inbox?
Sign up to exclusive daily email
More Stories from Miscellany