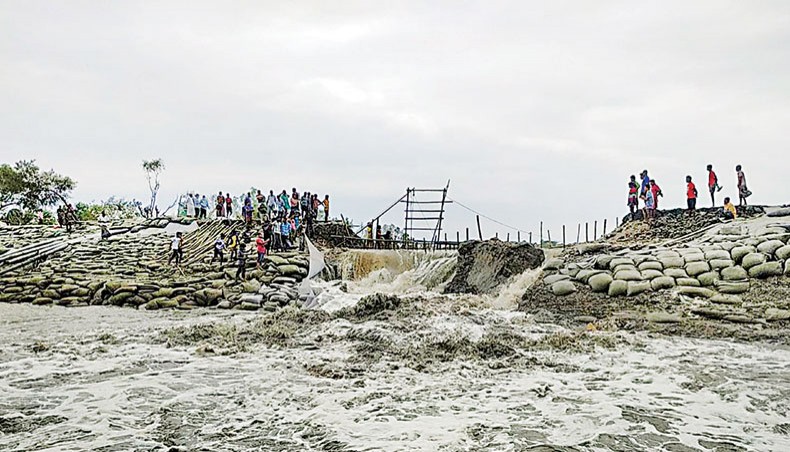 Speakers at a dialogue on Thursday demanded the government allocate special allocations for the people affected by cyclone Amphan in Bangladesh because they were yet to return to normal life.
The dialogue was hosted virtually marking the first anniversary of cyclone Amphan that hit the coastal areas of Bangladesh on May 22, 2020.
Participants also suggested for special allocations in the next budget for the development of the Sunderbans coast which is at risk of disasters.
Sunderbans and Coastal Protection Movement coordination Nikhil Chandra Bhadra conducted the dialogue hosted by jointly non-governmental development organisations Leaders, Sachetan Sangstha and Parliamentnews.
Workers Party lawmaker Mustafa Lutfullah, Khulna Paikgachha upazila chairman Anwar Iqbal Montu, Communist Party of Bangladesh central secretary Ruhin Hossain Prince, Mihir Biswas, joint secretary of Bangladesh Environment Movement, Prem Kumar Mandal, leader of Awami League, Matilda Tina Baidya, representative of KNH Germany, and Ashish Kumar Dey, general secretary of Green Club of Bangladesh, among others attended the programme.
Dams built in the 60s were built for crop cultivation. The Water Development Board is responsible for the maintenance of those dams. But due to lack of dam management and increased salinity, the entire southwest coastal region is now facing a dire crisis. We need to work together to address this crisis, Mustafa Lutfullah said.
Speakers at the dialogue demanded that the south-west coast of Bangladesh be declared a disaster-prone area, adding that super cyclone Amphan wreaked havoc in the coastal region amid the Covid-19 situation in 2020.
After that, an initiative was taken to build a sustainable embankment but its implementation did not start. The embankment had become dangerous at hundreds of points. So the people of the region are spending their days in extreme risk during the current storm season, observed the speakers.
They called for special allocations in the forthcoming national budget as well as urgent steps to address the risks.
They also called for the formation of a separate board for the development of the coastal region. Declaring the south-west coastal area a disaster risk area, the embankments at risk need to be repaired quickly. Permanent and strong embankments have to be built keeping in mind the climate change and disasters. Effective steps need to be taken for stable solution of safe drinking water of coastal people, they observed.
Want stories like this in your inbox?
Sign up to exclusive daily email
More Stories from Country