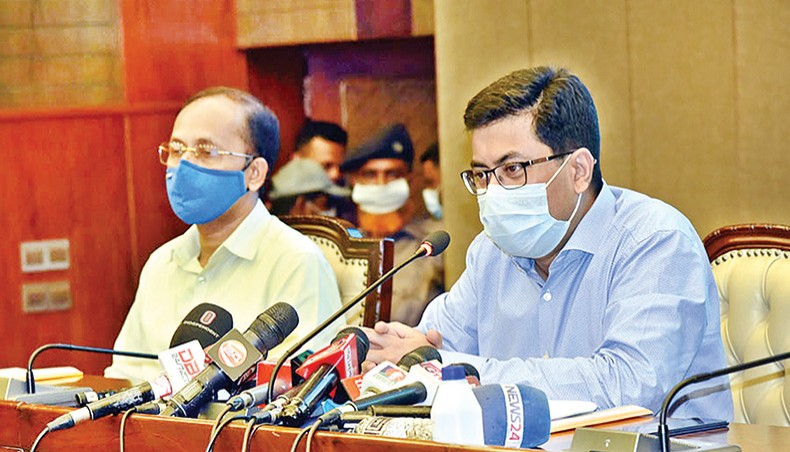 Dhaka south city mayor Sheikh Fazle Noor Taposh at a press conference on Wednesday said that city dwellers would get relief from waterlogging in the forthcoming rainy season and hoped that the mosquito menace would be under control.
Dhaka South City Corporation organised the briefing at Mayor Hanif Auditorium marking one year of the mayor and ward councillors in their office.
'We have cleaned 10 lakh tonnes of waste from two box-culverts and four canals. I believe we will give city people a great release from waterlogging during the monsoon this year,' Taposh said.
He also said that DSCC had continued cleaning canals and evicting illegal land grabbers since it took the responsibility of the canals from Dhaka Water and Sewerage Authority on December 31, 2020.
The government after severe criticism over the city's perennial waterlogging handed over the drainage system with 26 canals and 385km main drainage lines to city corporations from Dhaka WASA on November 26, 2020.
DSCC officials said that among the 26 canals 11 are under DSCC and rest under Dhaka North City Corporation's jurisdiction. Out of the 11 canals DSCC cleaned only four canals and two box-culverts in past few months.
'We hope that by 20 of next month, DSCC will complete the cleaning of DSCC's 715 km and Dhaka WASA given 185 km drainage,' Taposh said at the press conference.
He said that his stand against corruption was the same as he fired a number of DSCC employees, including engineers and revenue officers, and conducted drive against illegal shops in markets.
He said that DSCC had already taken an Integrated City Master Plan for Dhaka (2020-50) to ensure planned development of the city according to his election pledge.
'I have set the foundation of developed Dhaka in last one year,' he claimed.
DSCC councillors and officials, including chief executive officer Farid Ahmed, among others, were present at the event.
Want stories like this in your inbox?
Sign up to exclusive daily email
More Stories from Country