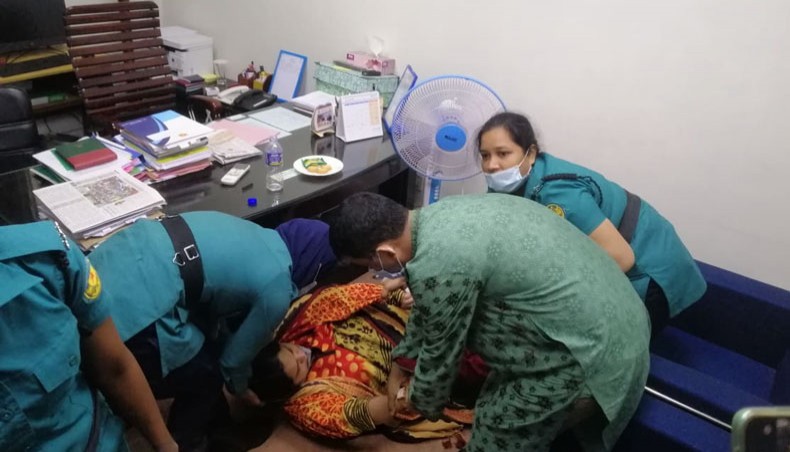 A health ministry official on Monday night lodged a case with Shahbagh Police Station in Dhaka against the daily Prothom Alo senior reporter Rozina Islam alleging the she had concealed and took photos of official documents having 'important information of the state'.
Md Shibbir Ahmed Osmani, a deputy secretary of the health ministry, filed the case after Rozina was handed over to Shahbagh police in the evening, said Shahbagh police officer-in-charge Mamunur Rashid.
He said that Rozina was shown arrested in the case and that they would produce her before a court in Dhaka on Tuesday.
Rozina Islam was handed over to Shahbagh police station after she was confined for around five hours at the health secretary's office in the secretariat on Monday.
She was confined to a room for five hours since afternoon allegedly for taking documents from the office of the health secretary.
Fellow journalists rushed to the ministry to rescue Rozina but failed as higher authorities did not respond to their requests. Rozina recently wrote some investigative stories on irregularities in the health sector recruitment and purchase.
The health ministry handed her over to Shabagh police at about 8:40pm and initiated a case against her.
The senior reporter was allegedly harassed, her cellphone was seized and she fell unconscious during confinement.
The health ministry did not make any statement on the issue.
Health secretary Lokman Hossain Mia could not be reached despite repeated calls for comments. He even did not respond to text messages.
Deputy police commissioner for secretariat security Morshed Alam said that Rozina had taken a file from the ministry without notifying the officials.
The ministry officials noticed the incident and challenged her. They seized the file and informed Shahbagh police.
Female cops went to the secretariat and she was put in their custody, said the DC Morshed.
He said that the ministry officials filed a complaint with Shahbagh police station and the journalist was also taken to the police station in the night.
Rozina could barely walk on her way to the police station. She needed the help of cops.
She could not make any response while asked about the incident.
Rozina's husband Monir Islam Mithu said that his wife was a victim of vengeance since she exposed several health-related scams with her reporting recently.
Rozina complained to journalists there that she was assaulted physically by the employees at the secretary's office.
Want stories like this in your inbox?
Sign up to exclusive daily email
More Stories from Country