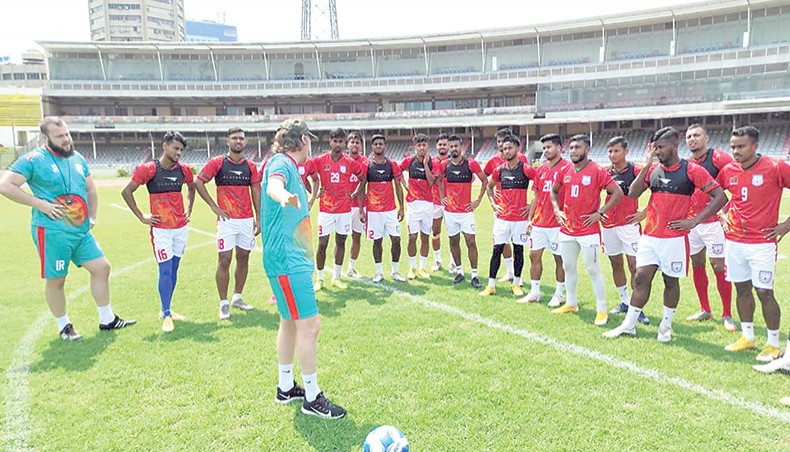 Bangladesh football team coach Jamie Day believes that his charges have the capability to do well in their remaining three matches of the 2022 FIFA World Cup and 2023 AFC Asian Cup qualifiers in June.
'Our players will work extremely hard to get victories against their best teams…I think, for us the situation is extremely tough, but we are looking forward to getting positive results in three games,' Day said after the first day of on-field training at the national team's camp on Monday.
Other than injured defender Bishwanath Ghosh, the remaining 32 footballers who were called for the national team's camp started their on-field training at 10:00am at the Bangabandhu National Stadium.
The players trained under the scorching sun for two hours with temperature rising upwards of 35 degree centigrade under the watchful eyes of coach Day.
Bangladesh are scheduled to play their remaining Group E matches against Afghanistan, India and Oman on June 3, 7 and 15 respectively at the Jassim Bin Hamad Stadium in Doha, Qatar.
The Bangladesh team has failed to secure a single win in the previous five matches of the five-team group and is currently at the bottom of the group table with only one point.
The 1-1 draw against India is Bangladesh's best result so far in the qualifiers' while conceding a 0-1 loss against Afghanistan, 1-4 loss against Oman and 0-2 and 0-5 defeats at home and away respectively against Asian champions Qatar.
Despite stark difference in terms of FIFA rankings, with Bangladesh lagging behind all four teams in the group, Day has lofty aspirations of beating all three opponents and believes it could happen if all of his charges play according to their abilities.
'We will play against teams who are higher ranked than us…So, it seems a tough game but we are positive… If everyone in the team doesn't play nine or 10 out of 10, then in that game they [Bangladesh] will not win,' Day said.
'We had that discussion yesterday [Sunday] and we will discuss it in the next couple of weeks. So, everyone needs to bring their best game,' he added.
On Sunday, captain Jamal Bhuiyan told the media that they are especially eyeing India and Afghanistan for a win.
Day backed Jamal's statement, saying that such positive attitude is necessary ahead of difficult clashes.
'If the players say they will lose both games, then you [journalists] will say it is negative. So, obviously, we want to win all three games,' Day replied to a query about the captain's comments.
The Englishman also expressed his satisfaction over the players' fitness.
'Their fitness level is fine. I don't think we need to ask any questions about their fitness anymore... Everyone is at the level that we need them to be,' Day said.
The team is likely to fly for Qatar on May 21 or 22 and is expected to play two practice matches against top-tier Qatar's clubs in late May.
Want stories like this in your inbox?
Sign up to exclusive daily email
More Stories from Football