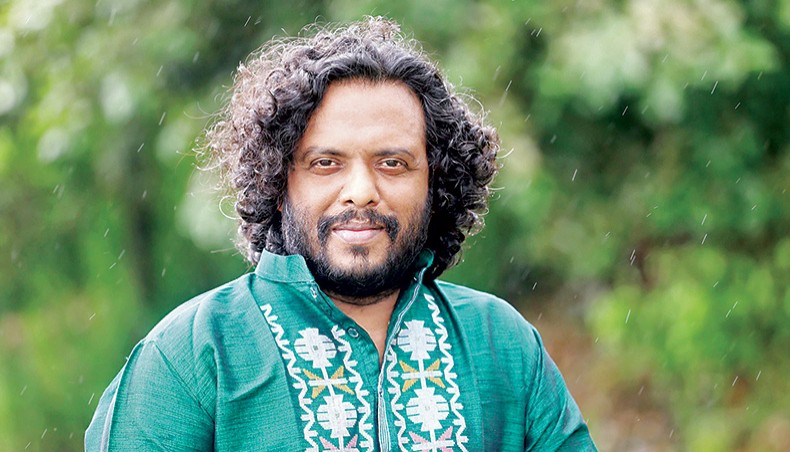 Popular singer and lyricist Lutfor Hasan said that he pens songs to portray human emotion, relationship, optimism and other aspects of life.
'I started penning songs and short stories when I was studying at college. I try to portray human relationship, emotion and express them in a positive light, which resonate with a wider audience. Such songs help people to forget worst memories and inspire them to look forward,' Lutfor Hasan told New Age.
Lutfor Hasan started writing songs in 2003. His first solo album titled Ghuri Tumi Kar Akashe Uro was released in 2011. He has released a total of seven solo albums.
'I have released a total of seven solo albums and more than 50 mixed albums till date. My first solo album's title track Ghuri tumi kar akashe uro received huge response from music lovers and inspired me to work on more than 600 songs over the years, which include Amar Akash Purotai, Bandhu Tomar Chutti Mele Na, Jid Kanna Kanna Lage, Aina Diye Ghar Bendhechi, Kharchapatir Gaan and others,' said Lutfor Hasan.
'I have worked with prominent musicians like Azam Khan, Sanjeeb Choudhury, Bappa Mazumder, Subir Nandi, Kumar Bishwajit, Samina Chowdhury, Fahmida Nabi, Shakila Zafar and others till date,' Lutfor Hasan added.
Lutfor released a music video of a duet song titled Brishtir Railgari under the banner of Dhruba Music Station on May 13 marking Eid-ul-Fitr. While speaking about the music video, he said, 'I regularly release multiple songs every year marking Eid but I released one song this year due to the coronavirus situation. Brishtir Railgari is a romantic song. It is my first work with aspiring singer Pushpita. The song has received a huge response from music lovers.'
He also shared about his upcoming projects.
'I am working on seven upcoming songs including Onya ami, Tor janya, E jiban chhelekhela and others. These songs will be released soon,' he said.
Lutfor Hasan is worried about the impact of Covid-19 on the music industry and urged music lovers to stay at home and not to go outside unless it is an emergency.
'Our music industry has been passing through a hard time as all concerts have been cancelled due to the Covid crisis. The industry will need a lot of time to bounce back. I urge the government to give financial assistance to mitigate the ongoing crisis,' said Lutfor Hasan.
'I am spending most of my time with my family at home. I am trying to keep myself busy with various works, including writing and reading. We can defeat this virus by taking precautionary measures. So I request music lovers to stay at home and not to go outside unless it is absolutely necessary and enjoy our local music,' he ended.
Want stories like this in your inbox?
Sign up to exclusive daily email