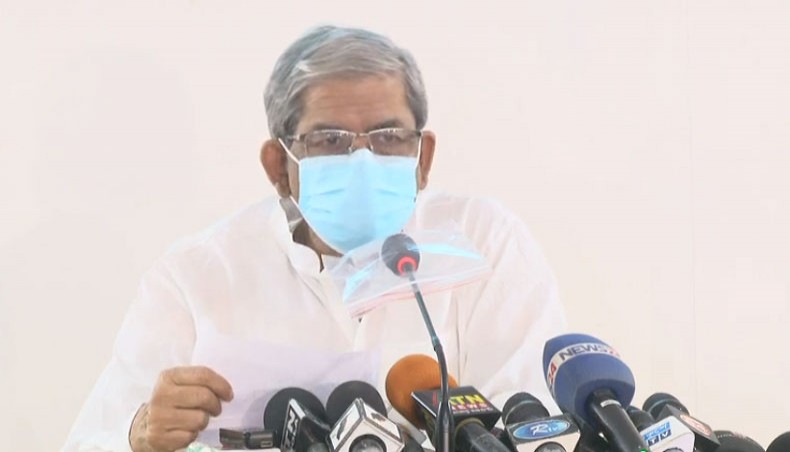 Opposition Bangladesh Nationalist Party on Saturday said that Bangladesh was suffering from an acute water crisis and difficulties in agricultural productions as India declined to share water equitably with Bangladesh.
The party secretary general Mirza Fakhrul Islam Alamgir came up with the remarks in a message on the eve of the 45th anniversary of historic Farakka Long March.
The day will be observed on Sunday.
Fakhrul said that the Farakka Long March day was still relevant in Bangladesh since the country is yet to get an equitable share of the water of Teesta and other rivers.
He alleged that India had constructed dams to obstruct water flows of the 54 common rivers defying international laws and conventions.
On May 16, 1976, Maulana Abdul Hamid Khan Bhasani led a massive long march from Rajshahi towards India's Farakka barrage, demanding the demolition of the barrage constructed by the Indian government to divert the flow of Ganges water inside its territory.
Thousands of people participated in the long march and staged demonstration protesting at the construction of the barrage.
The Farakka Barrage across the Ganges in the Indian state of West Bengal, roughly 16.5 kilometers away from the Chapainawabganj border, impacted adversely on Bangladesh's ecology since its commissioning.
Bangladesh National Awami Party chairman Jebel Rahman Ghani and secretary general M Golam Mostafa Bhuiyan, in a separate message on the eve of the day, said that Farakka Long March had inspired people to protest against any wrongdoing.
The statement said India had always deprived Bangladesh of just share of water. The water issue remained unresolved with India for 50 years, thanks to the reluctance and failure of Bangladesh's ruling quarters.
Want stories like this in your inbox?
Sign up to exclusive daily email
More Stories from Country