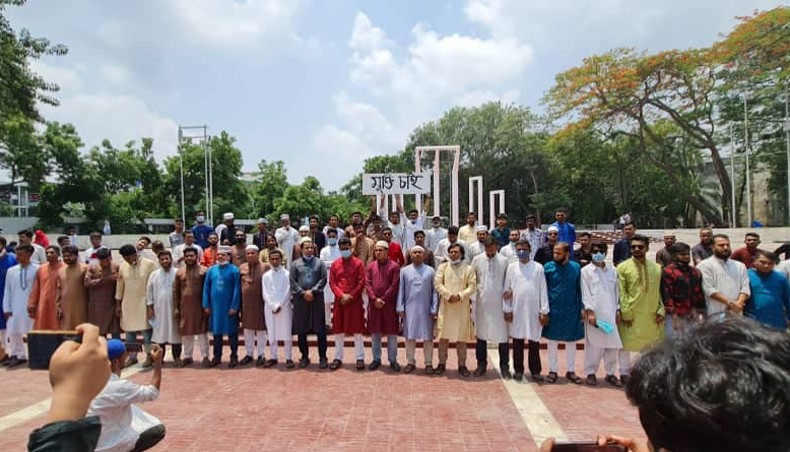 Bangladesh Chhatra, Juba and Sramik Odhikar Parishad staged a demonstration at the Central Shaheed Minar in Dhaka on Friday morning demanding the release of their 55 leaders and activists who were arrested during protest against the visit of Narendra Modi, the prime minister of India, to Bangladesh in late March.
Over 200 leaders and activists of the Parishad, after saying Eid-ul-Fitr prayers in the morning, joined the rally.
Attending the programme, the Parishad coordinator and former Dhaka University Central Students' Union vice-president Nurul Haque Nur alleged that 55 of their leaders and activists were arrested during the anti-Modi protest.
Nurul urged to wage movements if their leaders and activists are not released immediately.
'We have given time to the government. We observed their activities and roles. Don't dare to think that we will stop our movement after arresting 50 or 60 of our activists. Rather, our activities have gained momentum due to the repressions,' said Nur.
The Chhatra Odhikar Parishad joint convener Abu Hanif said, 'we are not afraid of the government repressions. We would continue our movement against the fascist government.'
Earlier on May 8, eighteen eminent citizens, including Gono Forum president and jurist Dr Kamal Hossain and Gonoshasthya Kendra founding trustee Zafrullah Chowdhury, in a letter to the chief justice urged to consider the immediate release of the students who were kept in pre-trial detention since their arrests during anti-Modi demonstrations in March.
Want stories like this in your inbox?
Sign up to exclusive daily email
More Stories from Country