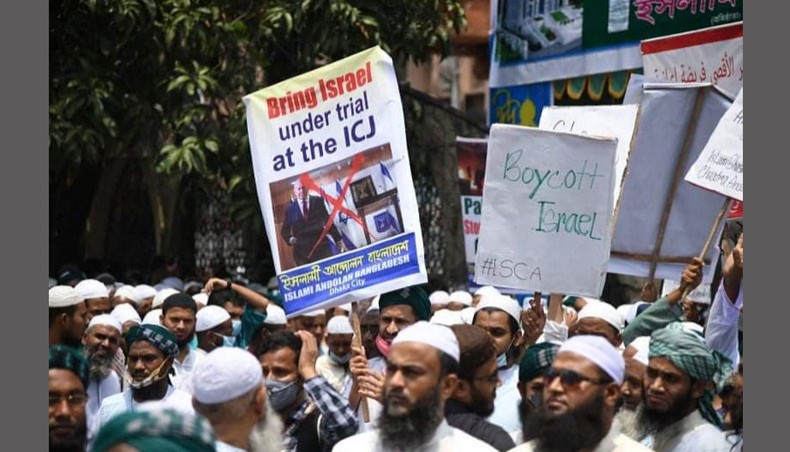 Hundreds of Muslim devotees on Friday took to streets after saying Eid-ul-Fitr prayers in congregations in Bangladesh's capital Dhaka protesting against Israeli attacks on Palestine that so far killed over 100 Palestinians and injured more than 500 others.
The Dhaka city unit of Islami Andolan Bangladesh organized the demonstration at the north gate of Baitul Mukarram National Mosque in the capital at about 11:00am.
Several hundred leaders and activists of the party as well as common people who said Eid prayers at Baitul Mukarrom took part in the protest carrying banners, handwritten posters and festoons reading slogans against Israel and expressing sympathy and solidarity with the people of Palestine and upholding the national flag of Bangladesh and Palestine.
The banner that the leaders held in their hands read 'In protest of barbaric Israeli attacks on worshippers at the first Qiblah of Muslim Ummah and the killing of the Palestinian civilians including women and children by Israeli terrorist armed groups.'
The handwritten posters read 'Bring Israel under trial at ICJ', 'Boycott Israel', 'Stop mass killings in Palestine', 'Stop aggression', 'Stop killing children, women in Palestine' and so on.
IAB leaders, addressing the demonstration, urged the world community to be united against Israel.
They also urged to stop Israel's aggression and killing in Palestine.
IAB leaders including secretary general Yunus Ahmed, presidium member Mahbubur Rahman and Dhaka north city unit president Fazle Bari Masud spoke in the demonstration.
International news agency Agence France-Presse, quoting health ministry in Gaza, reported on Friday that at least 103 people have been killed since May 10, including 27 children, and more than 580 wounded.
Want stories like this in your inbox?
Sign up to exclusive daily email
More Stories from Politics