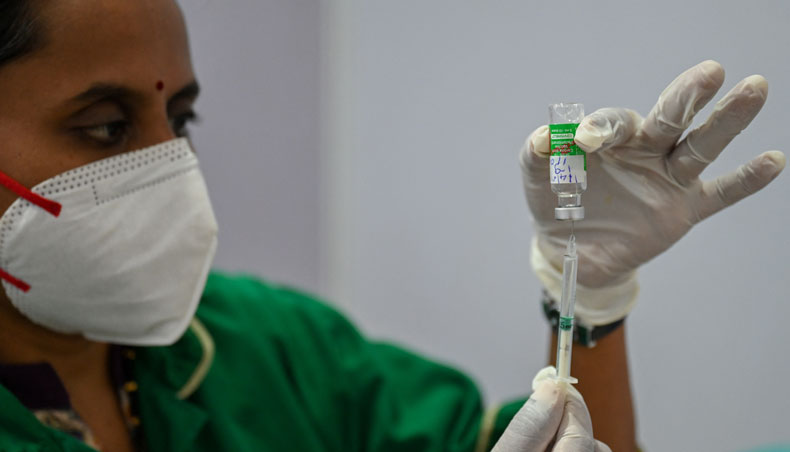 Oxford-AstraZeneca Covid vaccine Covishield induced robust immune response in Bangladeshi adults after one and two months of vaccination with the first dose, found a study released on Thursday.
The International Centre for Diarrhoeal Disease Research, Bangladesh, the Institute of Epidemiology, Disease Control and Research and United States Agency for International Development conducted the joint study.
The study findings were disclosed in a ICDDR,B press release on Thursday.
The study found 92 per cent of the people who received the first dose to have high immune response (geometric mean concentration of antibody against the virus 2,586 ng/ml) after one month of vaccination and 97 per cent of the vaccinated people to have even higher immune response (GMT 3,460 ng/ml) two months after the first dose of vaccination.
There was no significant difference in the presence of antibodies among the jab takers with or without comorbidity.
Among the participants, 46 were infected with Covid-19 earlier. The participants with previous infection history showed more robust response after receiving the first dose of vaccine.
ICDDR,B senior scientist Firdausi Qadri, who is leading the study from the organisation, said, 'We now know that the Covishield vaccine induces robust immune response in Bangladeshi adults. We will continue working on evaluating the neutralising ability of the antibody.'
IEDCR director professor Tahmina Shirin said that their analysis confirmed that the vaccine worked and people should get it when their turn comes.
The vaccination programme across Bangladesh had started on February 7 by administering the Oxford-AstraZeneca vaccine manufactured by the Serum Institute of India.
Bangladesh has so far obtained over one crore doses of the Oxford-AstraZeneca Covid vaccine manufactured by Serum Institute of India.
Want stories like this in your inbox?
Sign up to exclusive daily email
More Stories from Country