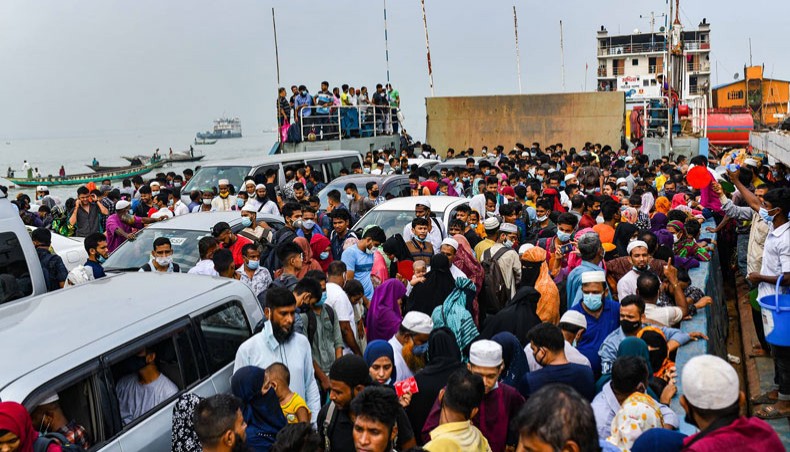 Thousands of people continued to leave Dhaka and adjacent areas on Thursday for their village homes defying coronavirus restrictions to celebrate Eid-ul-Fitr with their near and dear ones in their village homes in different districts of Bangladesh.
Eid-ul-Fitr will be celebrated in the country on Friday.
As inter-district buses are not plying due to Covid restrictions, they are opting trucks, pick-up vans, auto-rickshaws, human haulers, engine vans, battery-run rickshaws and even motorcycles to go to their destinations by paying fares many times higher than the normal time.
Many are opting break journey by boarding intra-district buses.
Though the there is almost no congestion at Paturia-Daulatdia ferry route on the Padma with increased number of ferries and launches to cross the river, the Shimulia-Banglabazar ferry route on the river had been witnessing congestion of private vehicles and pressure of huge passengers, New Age correspondents reported from Manikganj and Munshiganj reported.
A total of 17 ferries are now plying on Shimulia-Banglabazar ferry jetty, Bangladesh Inland Water Transport Corporation officials said on Thursday afternoon.
Abdul Jabbar, an assistant of a mason working in Dhaka, said that he was in need of going home to celebrate eid as he alone lives in Dhaka, leaving his three-year-old daughter, wife and ailing parents in village home in Khulna, and did not meet the family in past five months.
'But, I had to spend Tk 500 to reach Shimulia and after crossing the river In need to go to Khulna for which a motorcycle driver was seeking Tk 1,800. The fare is only Tk 300 during normal time,' he said.
'I will not get leave for long time from my workplace at any other time. That is why, I am using the chance to meet my family and relatives,' Md Hasan from Mongla in Bagerhat said while explaining the reason of going home defying Covid restrictions.
Hasan is a garment worker in capital's Kamlapur.
BIWTC increased the number of ferries on the two major river routs that connect 21 south and south-western districts of Khulana and Barishal divisions and greater Faridpur region with rest parts of the country after death of five people in crowd crush on two ferries on Shimulia-Banglabazar route.
Witnesses, however, said that the mad rush situation eased slightly and highways and ferry terminals were experiencing lesser home-bound people on Thursday, last day before Eid-ul-Fitr, than that of Wednesday.
No major traffic gridlock was reported on highways until 2:30pm on Thursday.
The Eid rush of people from the capital city and adjacent districts reached its peak on Tuesday and Wednessay in violation of all Covid restrictions on public movement.
Tens of thousands of home-goers were seen crowding ferry terminals, using vehicles not even registered for carrying passengers on important highways, standing at ferry terminals and roads and walking to their destinations.
Shimulia Gath traffic inspector Helal Uddin said that there was rush of home-bound passengers in the morning.
New Age Manikganj correspondent reported that the situation was almost normal on Paturia-Daulatdia and Aricha-Kazirhath river route.
20 ferries were kept ready in the routes to carry passengers, said BIWTC deputy general manager Zillur Rahman.
There was no major gridlock on highways to northern and south-eastern parts of the country, New Age correspondents in Gazipur, Tangail, Mymensingh and Cumilla reported.
Hundreds of homegoers bound for northern districts, including day labourers and low-income people, were seen waiting on the highways as they could not afford to have spaces on trucks and microbuses due to fares beyond their ability.
Some inter-district buses were seen to travel to Sirajganj from Tangail defying the ban.
People in groups and columns were seen getting on pickups, rickshaw vans and open trucks besides intra-district buses, cars and motorcycles — whatever vehicles they could avail for their journey home.
Tangail police superintendent Sanjit Kumar Roy said that vehicular movements in highways were normal.
The Cabinet Division on April 4 issued an 11-point instruction restricting public movement outside home between 6:00pm and 6:00am without an emergency, closing all markets and shopping malls, banning the operation of all modes of public transport, including domestic flights, limiting the banking hours and the selling time at kitchen markets and shops of essentials between April 5 and April 11.
The government on May 3 decided to extend the current restrictions on public movement and overall activities aimed at containing the Covid situation till May 16 amid widespread violations after the reopening of shops and shopping malls.
On early May 8, the BIWTC decided that ferries would not operate on the major river-routes — Paturia-Daulatdia, Shimulia-Banglabazar and Aricha-Kazirhat — on the River Padma during daytime from the morning to halt passenger movement to contain the spread of Covid-19.
The authorities, however, have operated at least four ferries from Shimulia ferry terminal at Munshiganj and two ferries from Paturia terminal in Manikganj with passengers till 3:00pm on the day due to excessive pressure of passengers.
The authorities also continued passenger movement on May 9 and 10 and increased the number of ferries on the river routes on May 11.
Want stories like this in your inbox?
Sign up to exclusive daily email
More Stories from Country