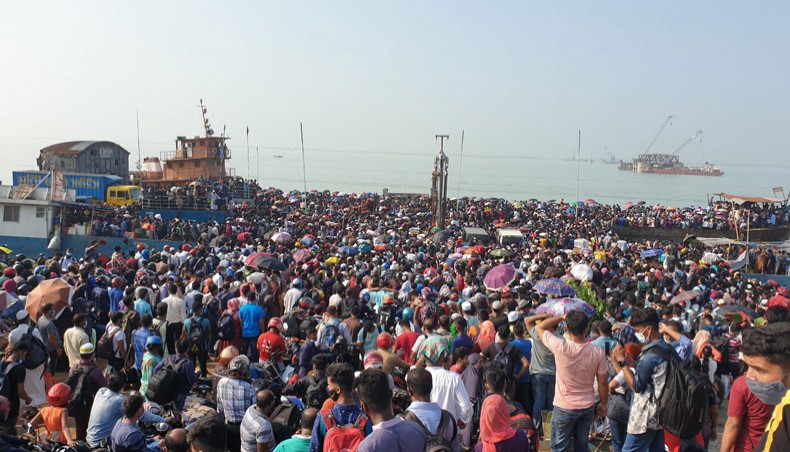 Thousands of people from the capital city of Bangladesh and adjacent districts thronged to the major ferry terminals and highways on Wednesday ahead of Eid-ul-Fitr violating all the Covid-19 restrictions imposed by the government on public movement.
Since the morning, tens of thousands of south-west district-goers have been seen crowding ferry terminals while Bangladesh Inland Water Transport Corporation operated almost all ferries to handle the pressure.
A 30km long tailback has been created on Dhaka-Tangail- Bangabandhu Bridge Highway, the gateway to the northern districts in the country, due to the mad rush of people.
Huge traffic congestion was also seen at Chandra intersection in Gazipur where a huge number of inter-district buses as well as lorries were seen plying with passengers on the highway.
Thousands of people were leaving Dhaka also on foot.
People were leaving Dhaka by lorries and pickups risking their lives and paying beyond their ability as the ban on train, launch and inter-district bus services remains in force.
People were seen flouting health regulations as they did not maintain social distancing and wear face masks properly amid the risks of a fresh surge in coronavirus infections.
A three-day public holiday on the occasion of Eid-ul-Fitr will start on May 13 which may be extended till May 16 depending on moon sighting.
New Age correspondent in Munshiganj reports that the pressure of passengers on foot from Shimulia to Banglabazar route on the River Padma has multiplied since the morning.
Passengers were seen pushing and shoving each other to get on ferries at Shimulia Ferry Terminal.
The other modes of vessels including trawler and speedboat services remained shut.
BIWTC Shimulia ferry terminal deputy general manager Md Shafiqul Islam said that they were plying 13 ferries out of 16 on the route.
He said that the passengers came at the terminal defying restrictions and amid check posts of the police, Border Guard Bangladesh and district administration.
At the terminal area, more than 400 goods laden vehicles were seen stranded at around 11:00am.
Our Correspondent in Tangail reported that a 30km long tailback was created on Dhaka-Tangail- Bangabandhu Bridge Highway from Bangabandhu Bridge east to Karatia by pass under Basail upazila in the district around 11:00am.
In absence of public transports, people hired microbuses, pickup vans, and private vehicles to leave Dhaka and moving on highways.
Besides, many people were seen travelling on goods-laden lorries.
Inspector Yasir Arafat, officer-in-charge of the highway police, said that the tailback was created due to the heavy pressure of private vehicles and public transports. We are trying to manage it, he said.
However, people are seen reluctant in maintaining health guidelines and social distance although the government has allowed intra-city transport services on condition of maintaining health guidelines.
Want stories like this in your inbox?
Sign up to exclusive daily email
More Stories from Country