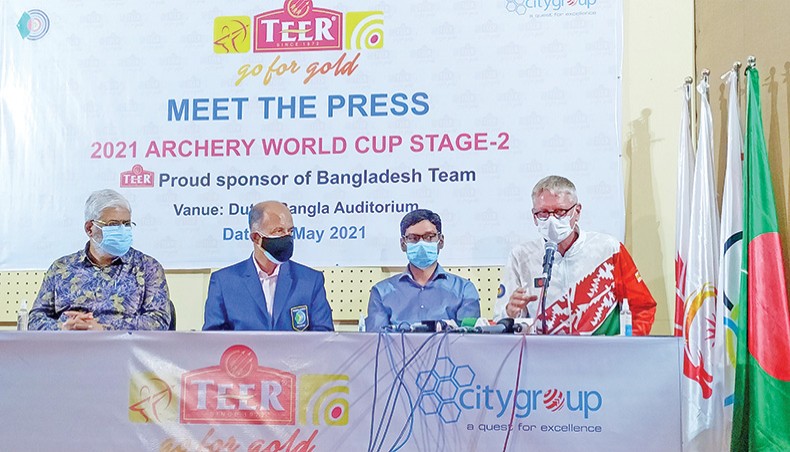 Bangladesh archers are set to return to the international stage after almost a 15-month gap when they will compete in the Archery World Cup 2021 stage-two from May 17 to 23 in Lausanne, Switzerland.
Bangladeshi archers last took part in an international competition back in December 2019, in the South Asian Games in Nepal.
The eight archers, including three female, were selected by Bangladesh archery team's German coach Martin Frederick through a three-day-long held in Tongi in April and the team will leave for Switzerland on May 16.
Martin was satisfied with his charges performance in the team selection trial and wanted to utilise the stage-two competition as a confidence-building opportunity before going to take part in the World Cup stage-three, which will also be the Tokyo Olympics qualification battle for the recurve team event.
'Paris competition [Archery World Cup stage-3] is the last chance for Olympics qualification as a team...We want to prepare our archers for Paris competition through participating in Switzerland,' said Marin during a press conference at the Bangladesh Olympic Association on Tuesday.
World Cup stage-three is scheduled to be held from June 21 to 27 in Paris, where Bangladesh recurve team archers will get a final chance to qualify for the Olympics.
The country's top archer Ruman Shana has already confirmed his qualification to the Olympics for men's recurve individual event.
Apart from Shana, Ram Krishna Shaha, Hakim Ahmed Rubel, Tamimul Islam, Beauty Roy, Dia Siddiqui and Menaz Akter Monira will compete in the men's and women's recurve division while only Asim Kumar Das will compete in the men's compound division in Switzerland.
Shana performed poorly in the 9th Bangabandhu Bangladesh Games and 12th National Archery Championship, but the German coach has renewed faith on the country's top ranked archer after he did well in the three-day trial.
'Ruman is still the best archer in Bangladesh. I got back my confidence over him. He placed number one in the three-day trial.'
Want stories like this in your inbox?
Sign up to exclusive daily email
More Stories from Miscellany