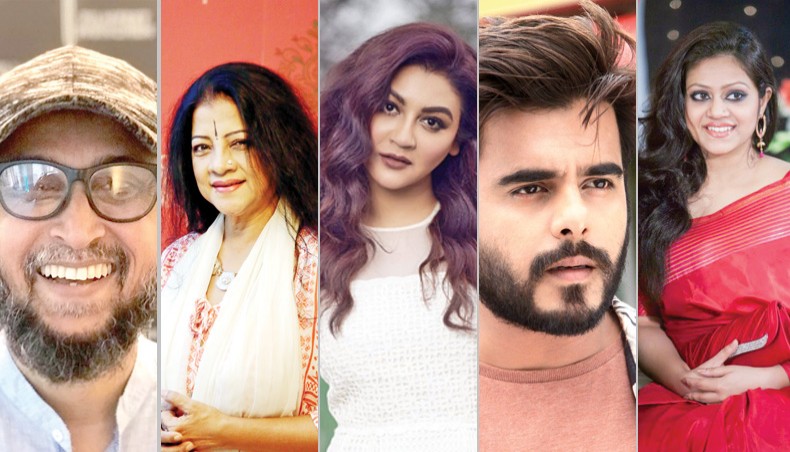 Celebrities belonging to different fraternities urged all to celebrate the upcoming Eid-ul-Fitr at home with their family members like the past year as the country's Covid situation is looking bleak and many people have passed away.
New Age talked to celebrities, including renowned filmmaker Mostofa Sarwar Farooki, acclaimed Nazrul Sangeet exponent and singer Fatema Tuz Zohra, popular actress Jaya Ahsan, actor Siam Ahmed and classical dancer Rachel Priyanka Perris, who shared how they will celebrate Eid-ul-Fitr this year and urged people from all walks of life to follow Covid health directives.
Mostofa Sarwar Farooki said he has no special plan for Eid.
'Being alive is more important than celebrating festivals. I urge all my fans and followers to stay safe and maintain social distancing during Eid. When the pandemic is over in future, we would be able to celebrate many more Eids and other festivals,' said Farooki.
Fatema Tuz Zohra said that she would celebrate Eid at home with family members like the past year.
'I do not have any plans to go outside on Eid day. My child and husband may not go to mosque to attend Eid prayers due to the emergency situation,' said Fatema Tuz Zohra.
'I urge all to celebrate Eid following the Covid health safety guidelines and would like to ask them to avoid unnecessary travel,' Fatema added.
She also bemoaned the fact that the government failed to control the Eid travellers while people in general are not following the government's directives.
'It is unfortunate that people do not understand the urgency of the situation and the necessity to follow the Covid guidelines. They may get infected during their journey and expose their family members to the virus,' she mentioned.
Jaya Ahsan said that she would celebrate this Eid at home due to the Covid situation.
'I will celebrate Eid at home as there is no other option for us at present. I urge all to wear masks and maintain social distancing if anyone visits their near and dear ones,' said Jaya Ahsan.
'As an optimistic person, I hope that people from all walks of life would be able to celebrate next Eid in a festive mood. We should follow Covid guidelines as part of the effort to keep ourselves and our families safe. Eid Mubarak to all my fans and well-wishers and let us hope for the best,' Jaya added.
Siam Ahmed said that he would stay at home with his family members during the Eid holidays.
'I cannot bring myself to celebrate this year's Eid as the country's Covid-19 situation has been worsening gradually. Many people have already lost their lives suffering from the virus-borne disease,' said Siam.
'We should take precautions and safety measures on our own accord. We have seen many videos showing people crowding at shopping malls and other places amid the Covid crisis. We cannot blame the healthcare system alone for the increase in Covid infection rate. A lot of people will get infected in the coming days as they are not following Covid guidelines,' Siam added.
Rachel Priyanka Perris said that she would celebrate this Eid along with her family members and has no plans to go on an outing amid the ongoing coronavirus situation.
'I will celebrate this Eid like the past year. Before the Covid outbreak, we used to celebrate Eid along with our friends. There is no alternative to staying home this year. I will prepare traditional food items, watch television and spend time gossiping with family members,' said Rachel.
She also urged all to maintain social distancing and stay at home on the Eid day.
'Life is more important than anything else in the world. We can understand that many people are left frustrated due to the situation in which normal celebrations are not possible. We should remain alert so that Eid travelling and social intermingling do not expose us to the virus. If it happens, the situation will get worse,' she ended.
Want stories like this in your inbox?
Sign up to exclusive daily email
More Stories from Miscellany