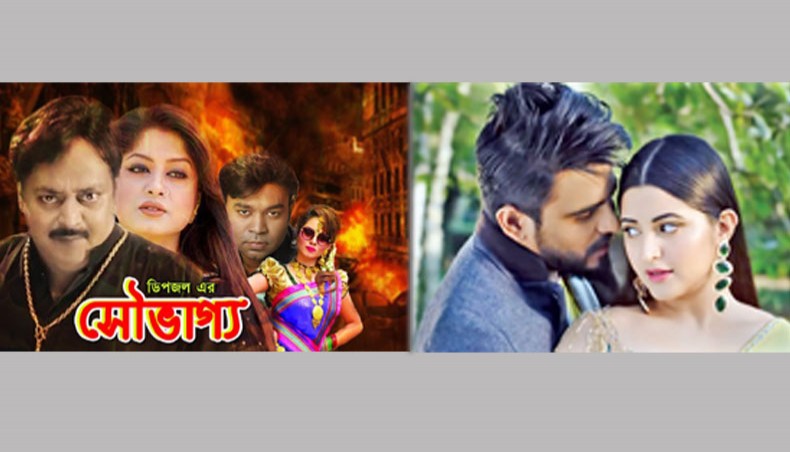 One film will be released this Eid amid the Covid situation to entertain film lovers during the Eid-ul-Fitr festival.
FI Manik-directed Soubhagya, starring Dipjol and Moushumi in lead roles, is expected to hit 35 cinemas across the country. Besides, Chayanika Chowdhury-directed Siam and Porimoni-starrer film Bishwasundari, which was released on December 11, 2020, is expected to be screened in 20 cinemas.
Bangladesh Film Exhibitors' Association chief advisor Sudipta Kumar Das confirmed the matter to New Age.
'A new film titled Soubhagya will be released in cinemas across the country marking Eid-ul-Fitr. Soubhagya is scheduled to be released in 35 cinemas. Besides, the film Bishwasundari, which was released in December, 2020, is scheduled to hit 20 cinemas. However, the number of cinemas might differ as few cinemas are yet to take decision about reopening,' said Sudipta Kumar Das.
'The cinemas will operate at half capacity following Covid-19 health safety guidelines,' added Sudipta.
'I am glad that my film will be screened in cinemas during Eid-ul-Fitr. I hope film lovers will go to cinemas to watch the film,' said Chayanika Chowdhury.
However, leading cinemas in Dhaka expressed uncertainty over the reopening of their doors during the Eid holidays till writing of this report on Tuesday evening.
Cinemas across the country were shut down on March 18, 2020 due to the emergence of the Covid-19 outbreak and they reopened on October 16, 2020 following the Covid health safety guidelines, including running at half capacity. Cinemas in the capital shut their doors again after the government imposed restrictions to curb Covid spread from April 5.
Mesbah Uddin Ahmed, senior marketing manager of Star Cineplex, said, 'We have not taken any decision yet regarding screening films during Eid-ul-Fitr festival. We will take decision on Wednesday regarding the matter.'
Mohammad Hasan, manager of Shyamoli Cinema Hall, said, 'We resumed our operation at half capacity after the cultural affairs ministry issued a gazette notifications regarding reopening cinemas in the past year and closed our cinema after government imposed restrictions. We have not decided about reopening our cinema to screen film during Eid-ul-Fitr.'
Madhumita Cinema Hall owner Iftekhar Uddin Nawshad said that he will not reopen his cinema, which has been closed since March, 2020.
'I cannot make profit screening one film during Eid. So, I will not reopen my cinema amid the Covid situation. I will reopen my cinema if new films are released after Eid. Otherwise Madhumita will remain closed for an indefinite period,' said Iftekhar Uddin Nawshad.
Want stories like this in your inbox?
Sign up to exclusive daily email