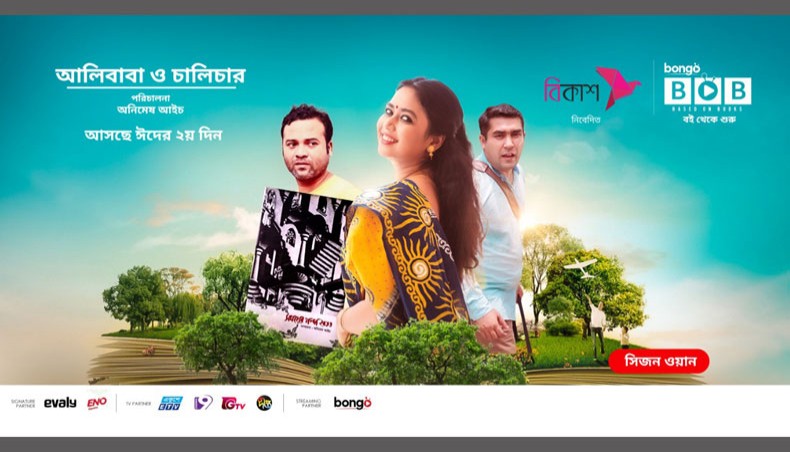 Streaming platform Bongo is set to launch a link between works of Bangladeshi literature and film through their 'BoB' or Based on Books project Season One presented by bKash, said a press release.
Bongo will be introducing seven telefilms adaptations based on books on Eid.
Seven popular books of 2020 were selected through rigorous discussions with the writers. The seven authors of the books Bongo chose are Shahaduz Zaman, Sadat Hossain, Rahitul Islam, Shibabrata Barman, Mahbub Morshed, Jobaed Ahsan and Maruf Rehman.
For the first time, actor Ilias Kanchan will be seen on the Bongo OTT platform. Ishrat Jahan Chaiti, Azmeri Haque Badhon, Partha Barua, Manoj Pramanik, Mumtahina Toya, Ashna Habib Bhabna and many more seniors and contemporary artistes will be featured in the films.
It isn't easy for the directors adapting the films either who are faced with various challenges, time, production during COVID-19 and the pressure of adaptation. Writer Maruf Rehman mentioned that with the change in the medium of storytelling, the need for change, expansion and refinement in the script is obvious. His novel Laboni will be adapted in one of the films under the same title. The seven directors are Animesh Aich, Noor Imran Mithu, Iftekhar Ahmed Fahmi, Sanjoy Somaddar, Wahid Tareq, Vicky Zahed and Golam Haider Kisloo.
Besides, Bongo will release films, dramas, telefilms, and web series in future based on works of eminent names of Bangla literature such as Shahidul Zahir, Syed Shamsul Haq and Selina Hossain.
The on-screen stories will be broadcasted on Deepto, Ekushey, Gazi and Channel 9 television channels and streamed exclusively on Bongo's OTT platform at www.bongobd.com.
Want stories like this in your inbox?
Sign up to exclusive daily email