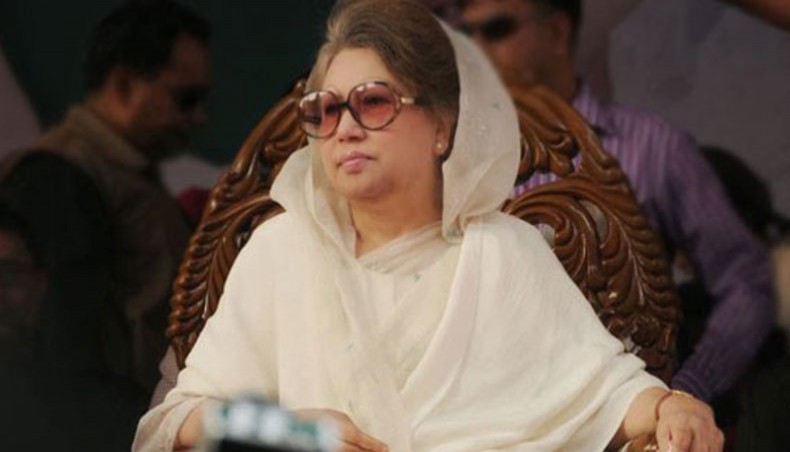 Opposition Bangladesh Nationalist Party secretary general Mirza Fakhrul Islam Alamgir on Tuesday said that the health condition of ailing party chairperson and former prime minister Khaleda Zia was still critical but the government did not allow the family to take her abroad for treatment.
Addressing a press conference at the party chairperson's office at Gulshan in Dhaka, Fakhrul alleged that the BNP chairperson was not allowed to go abroad for treatment to keep her out of politics.
He said that everyone was hopeful that Khaleda Zia would get permission for going abroad but finally the authorities said that they were unable to give the permission.
Fakhrul alleged that the government came up with some lame excuses so that they could refrain from giving permission, but the main purpose was to keep Khaleda out of politics.
In 1979, he said, Jatiya Samajtantrik Dal president ASM Abdur Rob was in jail and Ziaur Rahman sent him to Germany for better treatment using section 401, under which Khaleda was released temporarily.
He also said that the caretaker government in 2008 had sent Awami League leader Mohammad Nasim, then a convict, abroad for his treatment.
The BNP secretary general said that though Khaleda Zia's health condition improved, her condition was still critical. Her blood pressure, body temperature, oxygen saturation remained mostly normal, Fakhrul added.
He said that she could now breathe without oxygen support.
But she had been suffering from some other diseases like kidney and heart problems for which the danger still remains, he said, adding, 'The doctors remain anxious.'
Fakhrul thanked the Evercare Hospital authorities for taking care of the ailing Khaleda Zia and for bringing expert doctors from abroad for her treatment.
He mentioned that as Evercare Hospital is a private establishment, they have a shortage of equipment for treatment.
For this, he said, family members of Khaleda Zia wanted to take her abroad for better treatment.
When Khaleda Zia became Covid positive at her Gulshan residence, her health was always stable, Fakhrul said.
When she was brought to the hospital, her condition became critical and her doctors became anxious and suggested that she should be taken abroad for better treatment, he said.
Meanwhile, Jatiya Samajtantrik Dal-JSD on Tuesday demanded the immediate release of Khaleda Zia and necessary steps for her better medical treatment giving it the highest priority on humanitarian grounds.
JSD president ASM Rob and general secretary Sanowar Hossain Talukder made the demand in a statement.
'It was the duty of the government to release Khaleda Zia from jail to end the complication of sending her abroad for better medical treatment. Khaleda Zia will be relieved from the pain of long imprisonment and her family will be able to take all kinds of initiatives for better treatment,' it said.
The statement also said that it would be very tragic for the people of the country if the treatment of a former prime minister was hampered due to political and legal conspiracies.
'In such a situation, the government should immediately release Khaleda Zia and take appropriate steps to end all kinds of uncertainty, fear and concern,' it said.
On May 5, Khaleda Zia's younger brother Shamim Eskander submitted an application to the home minister Asaduzzaman Khan seeking permission to send Khaleda Zia, who tested positive for Covid-19 on April 11, abroad for better treatment.
After receiving the application the home ministry forwarded it to the law ministry for its opinion.
On May 9, after getting the law ministry's opinion, the home minister told reporters that the government could not allow the application as Khaleda was a convict and that there was no instance of allowing a convict to go abroad for treatment.
The 74-year-old former PM was released from Bangabandhu Sheikh Mujib Medical University's prison cell on March 25, 2020 on an executive order on conditions that she would take medical treatment at home and would not leave the country.
She has been staying at her Gulshan residence in Dhaka since then.
After Khaleda tested positive for Covid-19, she was admitted to Evercare Hospital in the capital on April 28 for some more tests as part of her follow-up medical check-up.
She has been undergoing treatment there as she was suffering from various post-Covid complications.
Want stories like this in your inbox?
Sign up to exclusive daily email
More Stories from Politics