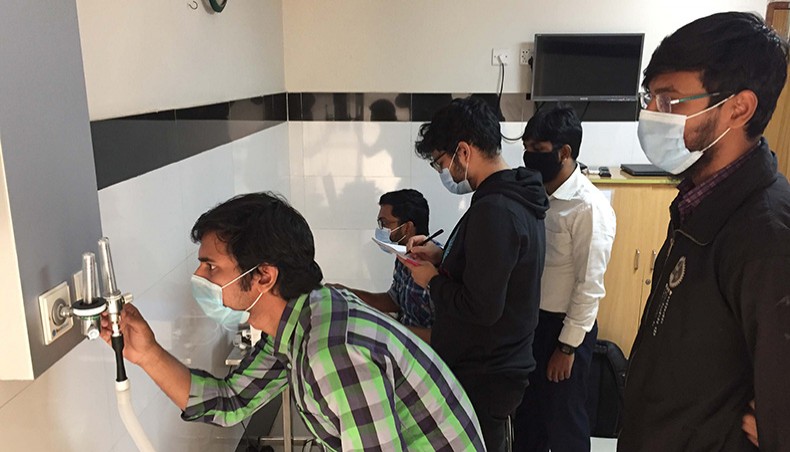 The Department of Biomedical Engineering of the Bangladesh University of Engineering and Technology has been working for 10 months for the development of a low-cost CPAP ventilator device to for hypoxemic Covid-19 patients.
This device can be used only by connecting with an Oxygen Cylinder or Medical Oxygen line without any electricity, said a press release.
OxyJet CPAP aims to provide oxygen treatment to patients of general ward and prevent ICU admission. OxyJet CPAP mixes atmospheric air and oxygen based on precision venturi jet mixing principle and generates a flow-rate of over 60 litres per minute.
With the approval of Bangladesh Medical Research Council, it has already successfully passed the first and second stages of the clinical trial. The third phase of the clinical trial has been approved by BMRC authority and has now begun at Dhaka Medical College Hospital, said Taufiq Hasan, principal investigator of the project.
Co-Investigators are Dhaka Medical College principal Md Titu Miah, a former DMC professor Robaed Amin and other physicians at DMC.
'The newly formed Research and Innovation Centre for Science and Engineering at BUET will be responsible for filing patents and technology transfer of such innovations in the future.' said Satya Prasad Majumder, vice-chancellor, BUET.
The OxyJet CPAP project is being funded by the Innovation and Entrepreneurship Development Academy Establishment (iDEA) by the ICT Division of the government.
The project also received unconditional donations from Ankur International Foundation, and Manush Manusher Jonno Foundation. OxyJet Team consists of Meemnur Rashid, Kaisar Ahmed Alman, Farhan Muhib, Md Kawsar Ahmed and Saeedur Rahman.
Want stories like this in your inbox?
Sign up to exclusive daily email
More Stories from Miscellany