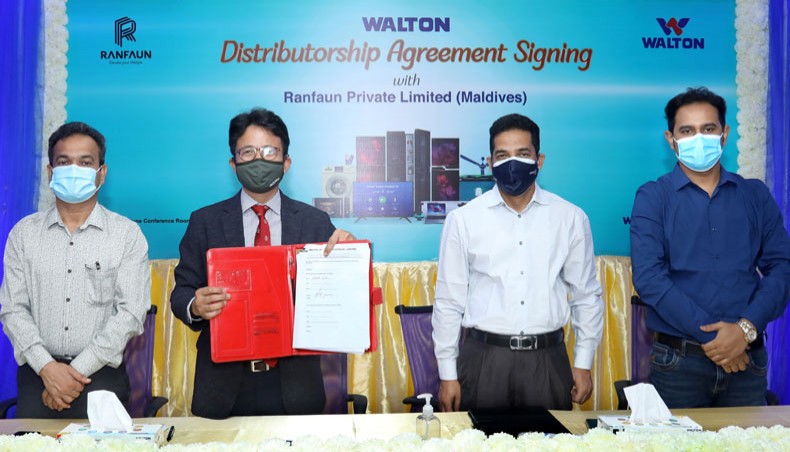 Bangladeshi electronics brand Walton started exporting its 'Made in Bangladesh' labeled products amid the Covid-19 pandemic.
In a latest move of its global presence, the brand added Maldives to its export country list, said a release on Tuesday.
Walton has started its brand business in the South Asian country with air conditioners.
In the course of time, it will export refrigerators, televisions, washing machines and various home appliances to Maldives.
Walton on Tuesday signed an agreement in this regard with Ranfaun Private Limited.
According to the agreement, Ranfaun Private Limited will market Walton brand products and provide customer services in Maldives.
Edward Kim, president of Walton International Business Unit, signed the agreement on behalf of his organisation while Ranfaun Private Limited owners Mohammed Fathih and Mohammed Shafiu signed the papers.
A virtual program titled Distributorship Agreement Signing was also attended by Maldives high commissioner in Bangladesh Shiruzimath Sameer, Walton Hi-Tech Industries Limited directors SM Mahbubul Alam and Nishat Tasnim Shuchi, deputy managing director Humayun Kabir, executive director SM Zahid Hasan and deputy executive director Abdur Rouf. The programme was hosted by first senior assistant director SM Tasneef Nafee.
Want stories like this in your inbox?
Sign up to exclusive daily email
More Stories from Miscellany