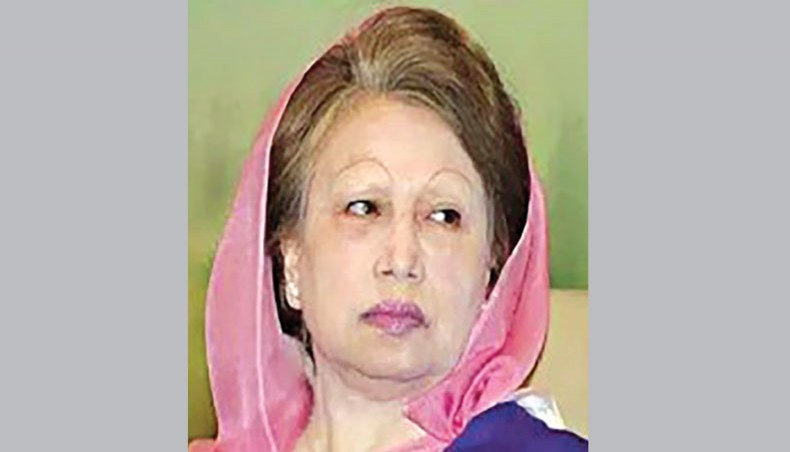 The government is likely to give its decision today on the application of the family of the Bangladesh Nationalist Party chairperson Khaleda Zia for her treatment abroad as the law ministry on Saturday gave its opinion on the application and decided to forward it to the home ministry.
'We [law ministry] have completed our work and our opinion will be sent to the home ministry tomorrow [Sunday] morning,' law minister Anisul Huq told New Age on Saturday, adding that the home ministry will give its reply to the applicant.
Former PM Khaleda Zia's younger brother Shamim Eskander on Wednesday night submitted the application to home minister Asaduzzaman Khan seeking permission to send Khaleda, who tested Covid positive on April 11, abroad for better treatment.
After receiving the application, the home ministry forwarded it to the law ministry on the night for its opinion as Khaleda was released from jail on March 25, 2020 on an executive order on conditions that she would take medical treatment at home and would not leave the country.
Meanwhile, a member of Khaleda Zia's 10-member medical team on Saturday told New Age that Khaleda still required oxygen support for breathing as she was suffering from various post-Covid complications.
He said that her condition was still 'unchanged' while the 74-year-old former prime minister was also suffering from high blood sugar and heart-related complications.
On Friday, a senior BNP leader told New Age that the party and Khaleda's family were planning to send her to a hospital in Singapore by an air ambulance as she was not fit enough to travel to London, where his elder son Tarique Rahman and most family members live.
But, he said, the ultimate intention of the family is to send Khaleda Zia to London.
Earlier on Thursday, the law minister said that the judiciary had no role in the matter of the application as Khaleda's conviction in two cases had been suspended on an executive order.
'Her conviction was suspended under Section 401 of the Code of Criminal Procedure with two conditions,' Anisul said, adding that there is a scope in the section of suspending any conviction with or without conditions.
'The section has already been implemented in her case. Now we need to see whether the conditions could be relaxed,' he said.
After Khaleda was tested positive for Covid-19, she on April 15 underwent a CT scan which showed a very nominal lung infection.
She again tested Covid positive in a second test on April 24.
Her medical team members on April 25 said that her health condition was fine and she had no visible symptoms of Covid-19.
Khaleda was admitted to Evercare Hospital on April 28 for some tests as part of her follow-up medical check-up.
But after hospitalisation, her condition deteriorated and she was shifted to the coronary care unit with breathing problems on Monday.
Khaleda, who were convicted in two cases, has been staying at her Gulshan house since her release from Bangabandhu Sheikh Mujib Medical University's prison cell on March 25, 2020 on the executive order.
She was initially jailed on February 8, 2018 for five years in the Zia Orphanage Trust graft case.
On October 30, 2018, the High Court doubled her five-year jail term in the case.
She was sentenced to a seven-year jail term in the Zia Charitable Trust graft case on October 29, 2018.
The time of suspension of her convictions was extended for further six months on September 25, 2020.
The suspension was extended for another six months for the third time on March 15, 2021 on the same conditions.
She has been granted interim bail in all but the two cases related to Zia Orphanage Trust and Zia Charitable Trust.
The BNP terms all the cases against Khaleda as false and fabricated.
Want stories like this in your inbox?
Sign up to exclusive daily email
More Stories from Politics