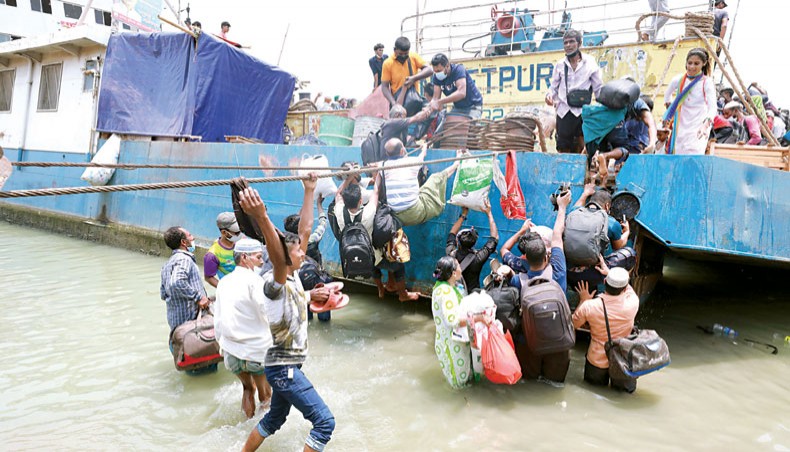 The frantic movement of people to leave Dhaka and adjacent areas for their village homes continued uncontrolled on Saturday amid mismanagement, sufferings of travellers and widespread violation of the restrictions imposed by the government to control the surge in Covid infections.
The rampant movement of people may cause a fresh of the Covid outbreak as the more contagious Indian variant of coronavirus has already been detected in the country, according to health experts.
The authorities shut daytime ferry services on different water routes but resumed the service at Shimulia and Paturia ferry terminals to carry hundreds of passengers on foot, by keeping hundreds of vehicles stranded at the terminal areas.
Bangladesh Inland Water Transport Corporation chairman Syed Md Tajul Islam Saturday night told New Age that following a government decision, Border Guard Bangladesh members would be deployed at all ferry terminals from this morning.
He said that the decision was taken in the wake of increase in flow of people rushing out for village homes ahead of Eid at ferry terminals despite a ban on ferry services.
Inter-district buses ran in different routes, especially on northern district routes, defying a ban and people continued to use on highways different transports not registered for carrying passengers.
People in groups were seen leaving the capital through different exit points on foot, sharing cars, microbuses, CNG-run auto-rickshaws, motorcycles and even goods-laden vehicles.
Immense suffering was a constant companion of travellers — mostly low income group people — as they had to change vehicles at different points, get on even trucks, stand for long hours in the sun and pay higher fares.
Gross violation of health regulations by not maintaining social distancing, wearing masks properly and using sanitiser continued almost unchecked on the 25th day of the current restrictions.
Popular shopping malls, shops, makeshift shops on footpaths and kitchen markets were flooded with customers throughout the day in the capital and other areas in the country.
Huge traffic congestions were also seen on the roads of Dhaka.
The Cabinet Division on Wednesday extended the current Covid restrictions till May 16 and allowed the intra-district road public transport services after 22 days while kept the ban on train, launch and inter-district bus services in force.
The government has allowed all banks to continue their activities daily for a limited duration since April 14, permitted domestic flight operations on all but the Cox's Bazar route since April 21 and reopened shops and shopping malls since April 25.
The country's Covid death toll has reached 11,878 with the number of cases hitting 7,72,127 till 8:00am on Friday, according to the Directorate General of Health Services.
In the early hours of Saturday, the Bangladesh Inland Water Transport Corporation decided that ferries would not operate on the major river-routes — Paturia-Daulatdia, Shimulia-Banglabazar and Aricha-Kazirhat — on the River Padma during daytime from Saturday morning to halt passenger movement to contain the spread of Covid-19.
The BIWTC, however, have operated at least four ferries from Shimulia ferry terminal at Munshiganj and two ferries from Paturia terminal in Manikganj with passengers till 3:00pm on Saturday due to excessive pressure of passengers.
BIWTC chairman Syed Md Tajul Islam told New Age that the decision to halt ferry services during daytime was taken as the prime minister Sheikh Hasina on Thursday had urged people to celebrate the upcoming Eid-ul-Fitr at their present locations to help checking the spread of the coronavirus.
Two or three ferries would continue 24-hour services to carry only dead bodies and patient-carrying vehicles and between 6:00pm and 6:00am every day ferries would carry only goods-laden vehicles on these routes, he said.
Replying to a question, he said that they had carried passengers on Saturday on humanitarian grounds.
New Age correspondent in Munshiganj reported that thousands of people had flocked to Shimulia terminal since Saturday morning and most of them claimed that they did not know about the ban.
Four ferries started from Shimulia – Kunjalata with ambulances, cars and passengers on foot.
A ferry, 'Enayetpuri', was seen packed with hundreds of passengers on foot without maintaining social distancing and wearing masks properly.
BIWTC Shimulia terminal assistant general manager Shafiqul Islam said that the ferries left the terminal carrying ambulances while it was not possible to prevent so many people from getting on the ferries.
Mawa traffic police-in-charge Helal Uddin said that more than 400 vehicles mostly goods-laden had been waiting in queues in front of the terminal to cross the river till 4:00pm.
People came at the terminal area by CNG auto-rickshaws and pickup vans by paying higher fares.
New Age correspondent in Manikganj reported that since Saturday morning, hundreds of people and vehicles, including cars, came to Paturia terminal and the authorities and members of the law enforcement agencies barred them from getting on ferries.
The BIWTC has allowed two ferries to take passengers till 2:30pm to handle the pressure.
Pabna-bound passenger Rabiul said that if the decision on ferry service ban had come earlier, they would not face sufferings.
A few hundred vehicles were seen queued in lines to cross the river in the afternoon.
New Age correspondent in Tangail reported that people were going to northern districts through the Dhaka-Tangail-Bangabandhu Bridge highway by any transport, like cars, trucks and buses, they could get.
With congestions on the highway, inter-district buses were found running in Korotia, Ashakpur, Gharinda, Rabna bypass, Bikramhati, Rasulpur and Elenga areas violating ban.
Earlier, the Bangabandhu Bridge East police station seized some inter-district buses on Friday on northern routes but released the buses on Saturday, said the station officer-in-charge, Shafiqul Islam.
Elenga highway police outpost-in-charge Yeasir Arafat said that the pressure of vehicles increased on the highway as the ferry movement was banned at Paturia.
Bangladesh Road Transport Owners Association, Bangladesh Bus-Truck Owners Association and Bangladesh Road Transport Workers Federation jointly organised a press conference at the National Press Club in the capital to press home their five-point demands, including resumption of inter-district bus services before the Eid.
Want stories like this in your inbox?
Sign up to exclusive daily email
More Stories from Country