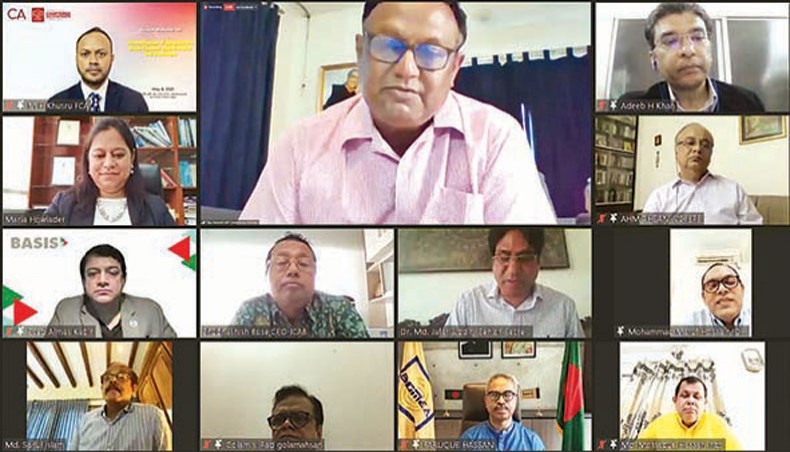 Business leaders and experts on Saturday emphasised the exploring of untapped global markets to enhance Bangladesh's export saying that diversification in export was a must for sustainable graduation of the country.
In a webinar titled 'Diversification of Bangladesh's Export Basket: Opportunities and Challenges' organised by the Institute of Chartered Accountants of Bangladesh, they also said that only foreign direct investment could ensure export diversification as local entrepreneurs lacked the technology needed for diversification.
'To enhance export of products and services from Bangladesh, we have to explore untapped markets in the Commonwealth of Independent States, Latin America and African regions instead of concentrating only in two areas — the United States and the European Union that includes the United Kingdom,' said ICAB chief executive officer Shubhashish Bose.
He said that despite having an ideal geographic location for global trade with very convenient access to international sea and air routes, Bangladesh had been facing a negative impression in terms of exportimport balance of trade.
Leather goods and Footwear Manufacturers and Exporters Association of Bangladesh president Md Saiful Islam said that during the coronavirus pandemic, export of leather goods had declined as it was a luxury item and buyers had moved from leather goods to synthetic items.
He said that the lack of environmental compliance was also a key reason behind Bangladesh losing its share on the global market in leather product export.
Saiful said that western buyers refused to buy Bangladeshi products produced with local raw materials for a lack of certification from the Leather Working Group as the central effluent treatment plant at Savar tannery state was yet to become operational.
Seeking government support in resolving the issue of environmental compliance for the leather sector, he said that diversification in export was a must for sustainable graduation of the country from the status of a least developed country.
Bangladesh Small and Cottage Industries Corporation chairman Md Mostaque Hassan said that only FDI could ensure proper diversification in export as the local entrepreneurs lacked the proper technology needed.
He said that China had achieved a meaningful export diversification in terms of both product and market due to huge FDI from Japan and many other countries.
He suggested that a proper environment should be ensured in the country for attracting more FDI.
Bangladesh Garment Manufacturers and Exporters Association president Faruque Hassan said that the readymade garment sector of the country had progressed a lot in the areas of safety and sustainability in the past 40 years but diversification had really not occurred.
He said that the industry had remained stuck within a 'volume driven growth strategy' that focused more on basic garments.
'As product diversification is one of the core strategies of pursuing higher growth, we encourage foreign investment in high-end and nontraditional product categories from our technologically advanced partners,' the BGMEA president said.
He said that market access and commercial diplomacy would be vital to exploring new markets for Bangladesh since tariff was a major barrier in almost all potential markets.
'We need to explore ways in which we can retain our market access in countries like India, Korea, Malaysia and China when we lose the market access benefits of an LDC,' Faruque added.
Commerce minister Tipu Munshi said that the government considered diversification in export to be the highest priority area and in light of that, they were providing subsidies to encourage exports of a number of products.
He further said that the commerce ministry was trying to make the activities of Bangladesh embassies abroad and foreign missions dynamic and diverse to survive in a rapidly changing and competitive world trade system.
ICAB president Mahmudul Hsana Khusru, senior secretary of the commerce ministry Md Jafar Uddin and Bangladesh Association of Software and Information Services president Syed Almas Kabir, among others, spoke at the event.
Want stories like this in your inbox?
Sign up to exclusive daily email
More Stories from Trade & Commerce