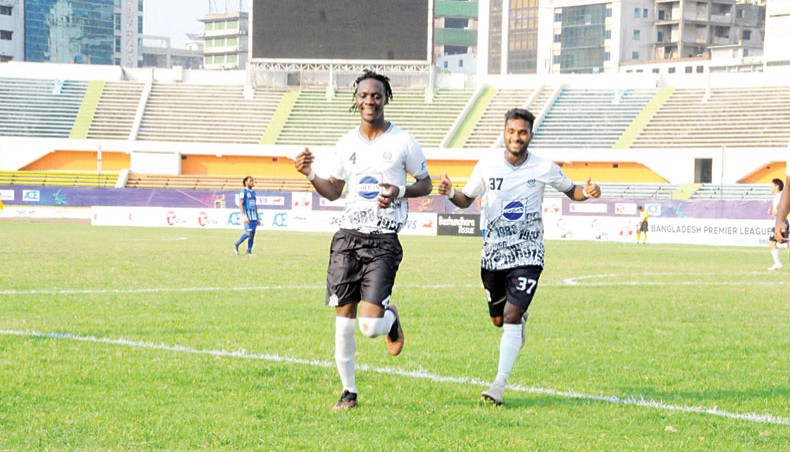 Mohammedan Sporting Club moved into fourth place of the Bangladesh Premier League table when they beat Sheikh Russel Krira Chakra 1-0 in their second-leg match at the Bangabandhu National Stadium on Saturday.
In the day's other match at the same venue, Chittagong Abahani beat Saif Sporting Club by 5-2 goals.
Burkina Faso defender Mounzir Coulidiati scored the all-important goal in the 37th minute to give the traditional Black-and-White outfit their eighth win of the league.
Coulidiati headed the ball home from goalmouth following a corner by defender Habibur Rahman Sohag from the right side.
Sheikh Russel had a close chance for an equaliser in the 51st minute but their Nigerian midfielder Obi Moneke's shot dropped outside the goal-line after it bounced off the crosspiece.
With the win, Mohammedan leapfrogged Sheikh Russel to fourth place with 28 points from 15 games while Russel remained on their previous collection of 26 points from same number of outings.
The first-leg match between the two sides ended in a 1-1 draw.
In the day's second match, midfielder Rakib Hossain scored a brace while Brazilian forward Nixon Guylherme, Ivory Coast midfielder Charles Didier and midfielder Mannaf Rabby scored once each for Chittagong Abahani.
Rakib scored in the in the 18th and 47th minutes before Nixon, Didier and Rabby added the other three goals in the 49th, 64th and 82nd minutes respectively.
Saif SC's Nigerian forward John Okoli pulled two goals back in the 27th and 68th minutes.
After 15 games, the port city outfit remained in sixth place with 25 points, while Saif were in the seventh with 23 points.
Want stories like this in your inbox?
Sign up to exclusive daily email
More Stories from Football