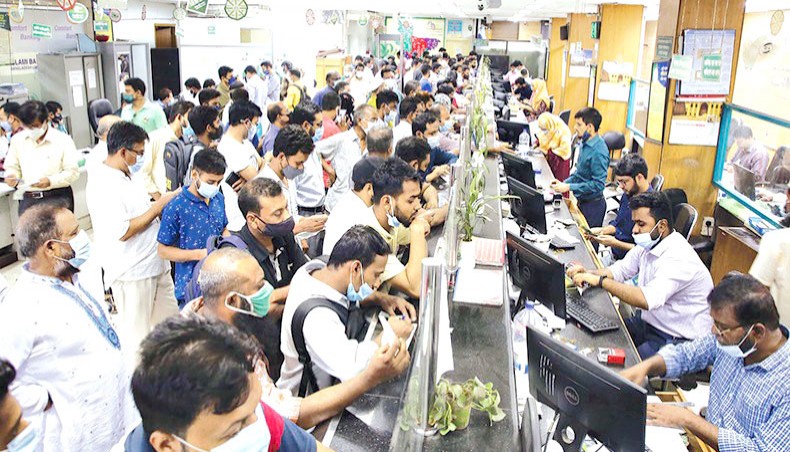 THE number of bank account holders in Bangladesh has been increasing over the last decade. According to central bank data, the number of deposit accounts in the country is more than 130 million at present. Even school students are now more familiar with banks and smart enough to deal with internet banking issues. It is, however, observed that customers visit various bank branches only to deposit or withdraw money so often that it becomes difficult for bankers to handle the crowd. When it is now possible to pay utility bills through mobile financial services like bKash, Nagad, OK Wallet, etc, long lines of customers in front of cash counters seem redundant. Moreover, during the ongoing Covid-19 outbreak, this creates a situation where maintaining physical distance becomes impossible inside the banks.
In fact, bankers often fail to educate their customers regarding the efficient use of modern customer-friendly technologies such as paying bills with mobile or checking account balances with the help of specific smartphone applications. Many customers do not even know that it is possible to transfer funds up to Tk 1 lakh at a time to other bank accounts through banking applications. It is also true that, even after being informed about these facilities, not all customers are confident enough to use them, no matter how convenient they are. Additionally, such services can help people to stay at home and attend to a number of tasks successfully. This is an essential aspect of keeping safe during this critical period of the outbreak.
It should also be noted that the maximum withdrawal limit from Automated Teller Machine booths has been recently increased up to Tk 1 lakh per day for the convenience of the customers. Still, this fails to prevent customers from going to the banks for the withdrawal of a small amount of money, for example, Tk 5,000. This proves that a large number of customers are still not initiated to using ATM booths to withdraw money even though such booths are not something new in this country. Almost 28 years have passed since the installation of the very first ATM booth by the Standard Chartered Bank in 1993. The rush of people in bank premises can be reduced and social distancing can be maintained only when people become more efficient in using the simple technological products offered by the banks.
Bankers should be friendly and patient enough to educate their customers not only to achieve the satisfaction of the customers but also to secure themselves and their families in the long run in times of emergencies such as the Covid outbreak. While educating the customers is a duty of the bankers, it, however, should be addressed that it is a concern of the customers as well. In Bangladesh, many customers are not aware of the banking dos and don'ts even after being informed about them frequently. For example, we, bankers are often asked by some customers, 'What is the current balance of my wife's account?', and we have to answer with the utmost politeness, 'Sir, we are not allowed to let you know the balance of any account except yours.' Bankers often face difficulties in making customers realise that they are making impossible, or, sometimes, illegal requests. Customers should try to relax their dependency on bankers because their smartphones are able enough to provide a number of banking services. It is time they adapted to modern day banking.
Financial education is quite necessary when we plan for financial inclusion. When someone plans to keep their hard-earned money safe in a bank, then they need to decide which bank they should choose with a view to earn a fair return at maturity. Customers need to know how a bank becomes more competent than other banks. They need to know technical terms such as the CAMELS rating system and have a general idea about the capacity of banks to return their money after a long period with promised profit. A higher return of their deposit should not be the only criteria here. Because the number of banks operating in the country continues to increase, selecting the right bank is one of the major decisions a person has to take.
Bank customers are not required to admit themselves in any institute to obtain financial literacy. An efficient banker is supposed to be fairly able to discuss the basic issues with the customers. Bankers can encourage their customers, especially the elderly people, to be confident enough to use modern technologies while considering issues of privacy. Customers, at the same time, should be careful enough to not share the PIN code of their debit cards with others.
The responsibility, therefore, is to be shared by both the bankers and the customers. We are now in an era of technological reformation where technological knowledge is likely to be included in basic education. In such a situation, becoming confident enough to avail round-the-clock banking facilities while maintaining all kinds of safety measures should not be difficult.
Amit Bagchi is a senior officer at One Bank Limited.
Want stories like this in your inbox?
Sign up to exclusive daily email
More Stories from Opinion