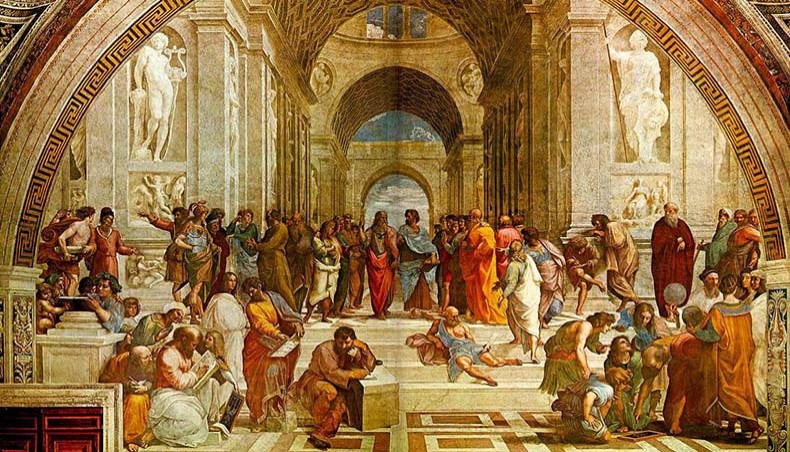 Without nurturing the power of imagination, without being empathetic to others and sensitive to their historically acquired cultural and moral values, without being emotionally intelligent someone can't be competent in the twenty-first century. Branches of humanities studies help us to understand who we are, what we are capable of doing, from where did we come and how to extract meaning out of everything, Md Mashiur Rahaman
The faculty of humanities can be distinguished from other faculties of knowledge by its focus which — humans. Its subject (not object) of study are the humans, who get investigated in its disciplines mostly from within and sometimes from without. Domains of human feelings and emotions, their agency and experiences, questions about their identity and existence are closely examined and discussed in this faculty.
Philosophy, literature or art history are some of the disciplines in the faculty. Sometimes the faculty's scope collides with the faculty of social sciences as both the faculties deal with humans and their behaviours. But the main difference between humanities and social sciences is humanities value individual humans as their primary subject of study and therefore they are the micro studies of humans, and social sciences study human beings as groups and therefore they are the macro studies of humans.
The existence of the faculty of humanities is pivotal for the Homo sapiens, the species that declared itself wise. Because otherwise, they will be mere machines or organisms with no feelings and no urgency to 'change' the world or to 'save' the world. Practitioners and scholars from other faculties like sciences and business studies may argue with this proposition. They may say that they also have changed and saved the world from sufferings or chaos. But if there are no primary questions like 'Who am I' or 'What is the purpose of my existence' then the existence of science and other disciplines or faculties would be at stake.
Because humans are the animals who have psychological needs beyond their physical or biological needs and desires, the need for discovering the self, knowing the self. Humans always feel the urgency to protect and improve their selves and it is because of this urgency humans collectively feel the desire to save and change the world. And the discussion about the importance of the disciplines in humanities starts from here.
But there might be another interruption posed by the so-called reality of the contemporary era. Someone might quite 'logically' ask, why someone should study ancient languages or classics or literature when time demands measurable technological skills. It is kind of common knowledge nowadays that subjects like history or philosophy cannot guarantee a prospective career.
When interviewed, Rashed Shahriar, a Bangla language and literature graduate from Dhaka University, a poet and a leader of a left-wing students' organisation answers this question. He argued that without being conscious about the self and the society no one can become successful in her/his life as a human being. According to him the persons who studied in the technological disciplines are more likely to stay jobless than the persons who pursued humanities.
'It is capitalism which does not want the humanities disciplines to exist in the academia despite huge research prospects in these disciplines,' he said. Rashed Shahriar also thinks, 'Everyone should have some humanities courses incorporated in their degrees regardless of their disciplines. It will prepare them inwardly to face the reality.
Another Bangla language and literature graduate from Jahangiranar University, and a faculty member at the Department of Bangla at Uttara University, Mizan Titu, addressed the problems from a structural viewpoint. According to him, the state machine has no solid plan for its populace; how to train them and give them a job. The state is just abiding by the traditional structural dogmas and viewing the social system by sitting in a far place from reality.
Therefore, according to Mizan Titu, the departments in the humanities faculty also do not have any clear idea about what they are doing and what should they do. 'I cannot remember a single instance of my department telling why am I studying literature or linguistics,' he said. He thinks for this lack of self-knowledge and purpose, the teachers and the students in the faculty are becoming demoralised to do original and important research.
'No public university in Bangladesh has a language lab even though most of them have at least one literature and language department. Resources in the libraries are inadequate to support the researchers and to add up with the disadvantages no university here grants money to the researchers so that they can collect resources" said Mizan.
Sohan Sharif, a third-year undergraduate student of comparative literature at Jahangirnagar University thinks the disciplines of humanities are changing with time. Rather than promoting 'pure humanities' the departments are more leaning towards digital humanities. Sohan Sharif thinks this is good for the faculty as in the age of digitisation humanities must study humans.
He does not think the career prospects for the humanities students are no less than a science student or business student. 'Even in the corporate institutions and industries, humanities students can work as cultural advisors, which will greatly help the companies to understand the society better and market their products and services more efficiently and targeted, said Sohan Sharif.
Kabya Krittika, a recipient of the Erasmus Mundus Joint Master Degree scholarship who is currently studying archaeological material science at the Aristotle University of Thessaloniki expressed her frustration about the condition of the faculty as follows.
'As a student of social science, I can feel that the scopes for humanities and social sciences are being limited day by day. Technology is far more tangible than any discipline of humanities, making it easier to grab all the attention. You can see electricity but you can't see how the past is dominating your present-day politics! What I'm trying to say is making humanities relevant in this tech-based society is a very challenging task.
'I am studying here in a subject called archaeological material science, but sorry to disappoint you all I am learning is how to run some machines! We barely discuss Archaeology here, because it's the mentality that archaeology is either unnecessary or very easy to do' she added.
We can see that three of our four interviewees have expressed their concerns or frustration about their disciplines. But it is also easy to understand from their language of frustration is that they are not bothered about their career, but they are bothered about the system which is treating the disciplines of humanities as the engines that produce 'failures'.
But this kind of treatment is not desirable. If we look at the skills the companies want nowadays, we will find that they want the job seekers to be competent in languages, to be critical thinkers, and to be creative. We must understand that a person cannot master these skills magically. These are the skills of a person who knows what it takes to become a human being, to get defined as Homo sapiens.
Without nurturing the power of imagination, without being empathetic to others and sensitive to their historically acquired cultural and moral values, without being emotionally intelligent someone can't be competent in the twenty-first century. And there is no magic formula to acquire these things if someone is not interested in history, philosophy, and literature. The branches of knowledge that make us realise who we are, what we are capable of doing, from where did we come and how to extract meaning out of everything.
Therefore, it is important for the state, for the power structure, for the society, and for academia to bring back the importance of the faculty of humanities and treat the faculty with due respect. Otherwise, future generations will be apathetic who will disregard everything that made us human.
Md Mashiur Rahaman is a student of English at the University of Liberal Arts Bangladesh.
Want stories like this in your inbox?
Sign up to exclusive daily email