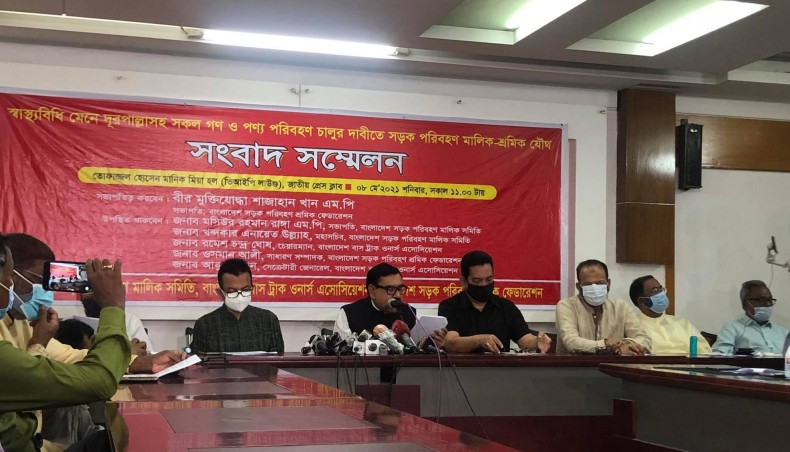 Leaders of the Bangladesh road transport owners and workers on Saturday urged the prime minister Sheikh Hasina to resume the inter-district bus services following health regulations ahead of the Eid-Ul-Fitr.
They also demanded waiving of all fees and taxes for vehicle's, including tax token, route permit fee, income tax, driving licence fee and other fees, for total five months in 2020 and 2021 when the public holidays and restrictions were imposed.
They also demanded waiving of all fines for delayed renewal of these documents till December 31, 2021.
Bangladesh Road Transport Owners Association, Bangladesh Bus-Truck Owners Association and Bangladesh Road Transport Workers Federation jointly organised a press conference at the National Press Club in the capital to place their five-point demands.
The other demands are — financial support and food relief for the transport workers and Tk 5,000 crore incentive to the transport owners with low interest rate and easy condition for paying workers arrears, rice for workers from OMS and at Tk 10 before and after the Eid, and waiving of all loans invested in transport businesses.
While chairing the press conference, the federation president and former shipping minister Shajahan Khan said that if the demands were not met, the owners and workers would take position at the bus and truck terminals across the country on Eid day between 10:00am and 12:00pm.
Later more programmes would be announced, he said.
'The government should have taken our recommendations before taking decisions over imposing ban on public transports,' he said.
Shajahan also said that they had already talked to the home minister Asaduzzaman Khan about their demands but they were yet to get any decision.
The owners' association secretary general Khandakar Enayet Ullah said that they were incurring in around Tk 500 crore losses each day due to the ban.
The leaders claimed that in Bangladesh there are around 70 lakh road transport workers and three lakh transport owners.
A circular issued by the Cabinet Division on Wednesday extended the current restrictions till May 16 and allowed the intra-district road public transport services after 22 days while the ban on train, launch and inter-district bus services would remain in force.
However, since Wednesday people were seen going to different districts by changing buses.
Earlier, the government has allowed all banks to continue their activities daily for a limited duration since April 14, permitted domestic flight operations on all but the Cox's Bazar route since April 21 and reopened shops and shopping malls since April 25.
The ongoing restrictions started on April 14 before which on April 5 the government imposed an 11-point restriction on public movement and businesses.
The previous restrictions were extended amid widespread violations as many people came out of their homes while others went shopping, crowding markets despite high risks of infection in the capital as in the other cities.
The prime minister Sheikh Hasina on Thursday urged people to celebrate the upcoming Eid in their present locations to help check the spread of the coronavirus across the country.
Want stories like this in your inbox?
Sign up to exclusive daily email
More Stories from Country