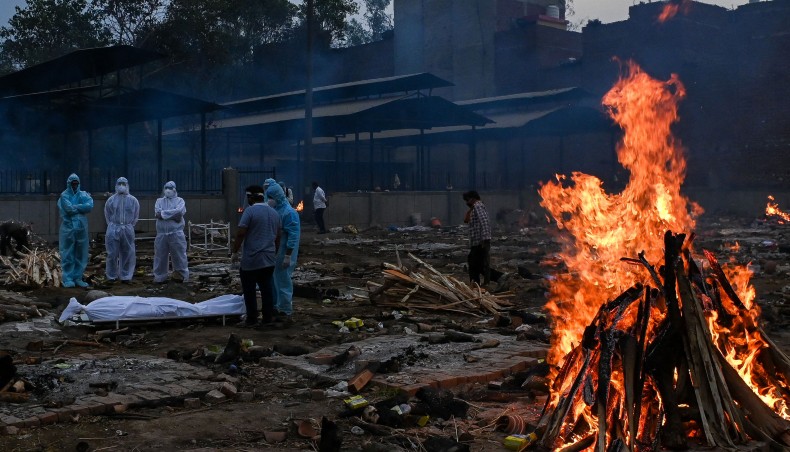 New Covid-19 deaths surged past 4,000 for the first time in India on Saturday in one of the world's worst outbreaks, as the pope called for patent waivers to 'allow universal access to the vaccine.'
The call for waivers has gained momentum after the United States announced its surprise support for such a scheme to enable adequate vaccine supplies to fight the raging pandemic.
India now accounts for nearly half of the world's new known cases according to an AFP database, and it reported a national record 4,187 new deaths Saturday.
New Delhi has struggled to contain the outbreak, which has overwhelmed its healthcare system and sparked public anger over mismanagement. 'The government says that there is ample supply of medicines and oxygen,' said Brijesh Pandey, who spends hours every day jostling with others to try to secure oxygen for his brother-in-law.
'But look how hundreds of desperate people are struggling to save their brothers, sisters and parents.'
India reported more than 400,000 new infections on Saturday, but many experts suspect the official death and case numbers are a gross underestimate. The surge has spilled into next-door Bangladesh, Nepal and Sri Lanka.
Its eastern neighbour Pakistan began a nine-day shutdown targeting travel and tourist hot spots to try to stop its outbreak from snowballing during the upcoming Eid celebrations at the end of the Islamic holy month of Ramadan. The Eid holidays usually see a mass movement of people across the nation of 220 million, and the government has mobilised the military to help enforce the restrictions.
But mosques, which have been packed each night throughout Ramadan, will remain open despite the virus threat. Pope Francis on Saturday expressed his backing for 'universal access to the vaccine and the temporary suspension of intellectual property rights', condemning the 'virus of individualism' that 'makes us indifferent to the suffering of others'.
The global arsenal against the coronavirus expanded as the vaccine from China's Sinopharm became the first fully non-Western shot to get the green light from the World Health Organisation.
Sinopharm is already in use in 42 territories around the world, including Pakistan, Egypt, the United Arab Emirates and Serbia.
The European Union meanwhile said it had sealed a deal with BioNTech/Pfizer for up to 1.8 billion extra doses of its Covid vaccine.
The European Union on Saturday pressed the US for a concrete proposal and a commitment to export much-needed jabs.
Rapid vaccine rollouts worldwide are considered critical in the fight against the virus, which has killed 3.26 million people so far, and some countries with high immunisation rates such as Britain are already easing restrictions and testing events with large gatherings again.
The novel coronavirus has killed at least 32,72,332 people since the outbreak emerged in China in December 2019, according to a tally from official sources compiled by AFP at 10:00 GMT on Saturday.
At least 15,67,90,180 cases of coronavirus have been registered. The vast majority have recovered, though some have continued to experience symptoms weeks or even months later.
These figures are based on daily tolls provided by health authorities in each country and exclude later re-evaluations by statistical organisations, as has happened in Russia, Spain and Britain.
On Friday, 13,882 new deaths and 8,44,761 new cases were recorded worldwide.
Based on latest reports, the countries with the most new deaths were India with 4,187 new deaths, followed by Brazil with 2,165 and the United States with 826.
The United States is the worst-affected country with 5,80,901 deaths from 3,26,52,028 cases.
After the US, the hardest-hit countries are Brazil with 4,19,114 deaths from 1,50,82,449 cases, India with 2,38,270 deaths from 2,18,92,676 cases, Mexico with 2,18,657 deaths from 23,61,874 cases, and the United Kingdom with 1,27,598 deaths from 44,31,043 cases.
The country with the highest number of deaths compared to its population is Hungary with 294 fatalities per 1,00,000 inhabitants, followed by the Czech Republic with 277, Bosnia-Herzegovina with 268, Montenegro 244 and the Republic of North Macedonia 243.
Europe overall has 10,89,329 deaths from 5,13,66,755 cases, Latin America and the Caribbean 9,48,402 deaths from 2,97,10,364 infections, and the United States and Canada 6,05,417 deaths from 3,39,21,943 cases.
Asia has reported 3,70,378 deaths from 2,91,05,996 cases, the Middle East 1,33,851 deaths from 80,21,585 cases, Africa 1,23,895 deaths from 46,19,579 cases, and Oceania 1,060 deaths from 43,967 cases.
Want stories like this in your inbox?
Sign up to exclusive daily email
More Stories from South Asia