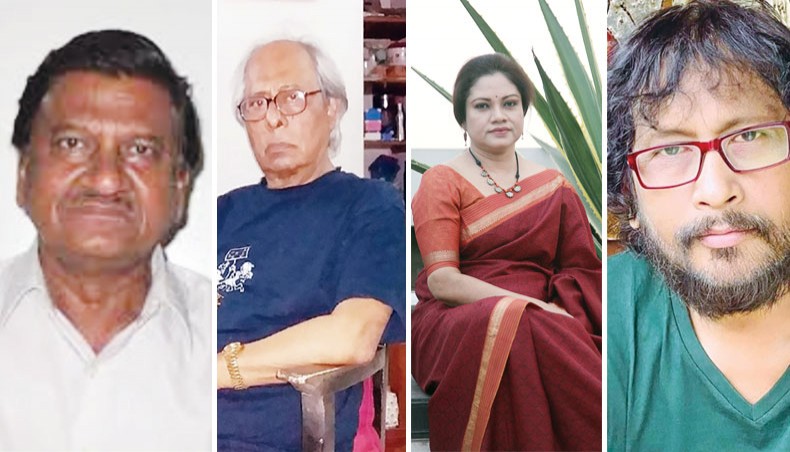 Though Rabindranath Tagore is considered one of the most celebrated cultural icons, not only in the Indian subcontinent but also across the globe, nowadays, performance of and study on Rabindranath's works are gradually decreasing in the country.
The noble laureate left his mark in all the genres of the arts and literature, including theatre, music, dance and painting. He penned novels, short stories, plays and playlets, collection of poems, essays, over one thousand songs, dance-dramas, verse dramas and others during his lifetime.
He also composed over two thousand songs, among which two became the national anthem of India and Bangladesh.
New Age talked to some eminent intellectuals and artistes — former professor of Bangla at Dhaka University Abul Kashem Fazlul Haque, writer and novelist Professor Hasan Azizul Huq, popular theatre activist and chief of theatre troupe Prangonemor Ananta Hira and acclaimed Tagore singer Adity Mohsin — on the eve of Rabindranath Tagore's 160th birth anniversary to know the exact position of the contemporary cultural practices on and around Tagore.
They said that in today's cultural practices, Rabindranath Tagore does not figure as prominently as before and the government should take an initiative to promote Tagore's works among the younger generations.
They also said that few people are working on Tagore, which is not adequate at all.
Abul Kashem Fazlul Haque said, 'Several people in our country hold Rabindranath Tagore in high esteem and they often write on Tagore's songs, poems and literary works. But there are very few people who choose to see Rabindranath in the national and international contexts and evaluate his works beyond the framework of his own time and milieu. But his songs, poems and plays were attractive and they are still attractive and it will remain so in the years to come.'
'In the backdrop of songs, poems and plays of Rabindranath Tagore, we need new creative practices in our country as creative practices have been in a gradual decline after the War of Independence. Since the time of Tagore and before the war in 1971, this timeframe can roughly be referred to as a renaissance period in cultural practices. The affect of the renaissance disappeared after 10 years of Bangladesh's independence. We now need a new creative spark in the world of arts, thoughts and even politics,' he said.
'Some people have been using Rabindranath Tagore politically, which is also a cause for concern. Now we need another renaissance and a mass uprising to overcome the crisis,' Fazlul Haque added.
Hasan Azizul Huq wrote a collection of essays on Rabindranath Tagore titled 'Amar Rabindrajapan', which was published in the Amar Ekushey Book Fair in 2020 by Ittadi Grantho Prokash. In the book, the writer describes the importance of Rabindranath Tagore in the present context. He also discusses in the essays the life and literary works of the Nobel laureate.
Hasan Azizul Huq said that cultural practices on and around Rabindranath Tagore seem nonexistent in Bangladesh.
'The cultural studies and celebration of Rabindranath Tagore's works have disappeared gradually and the situation is almost the same in West Bengal, India. It is sad that in Bangladesh, the names of people who continue to produce works on Rabindranath can be counted at one's fingers. Even if we cast our practices around Tagore on a limited scale, the scenario of our country as well as the world would have changed at least a bit,' he said.
'Bangla language and literature have been going through a though time in the contemporary period. As a result, creative people in our country are not getting the recognition they deserve. People are hankering after money, power and wealth instead of intellectual development. Reading habit among the younger generations is also decreasing,' he added.
Adity Mohsin said, 'The practice of Rabindranath Tagore is very low in our country. We failed to establish a culture-friendly environment in our country. Tagore's works play a vital role in enriching our society and the nation as a whole. Nowadays, only one or two TV channels air programmes on Tagore regularly which is indeed a sign of decline.'
'I think that media can play an important role in spreading works by Rabindranath Tagore, Kazi Nazrul Islam, Fakir Lalon Shah and local folk songs. The number of quality programmes on television channels are also in decline now. A very small number of newspapers are carrying quality articles on Rabindranath Tagore, as a result, our intellectual nourishment is remaining unfulfilled,' Adity added.
She said that the government and other authorities concerned should draw out plans to promote Rabindranath Tagore's works among the younger generations.
Ananta Hira said, 'The younger generations are only familiar with one or two songs of Rabindranath Tagore. We can say that there are no obvious signs of internalising Tagore and turning his ethos into a part of our community. The decline in the practice of Tagore songs and performances among the younger generation is linked to the negligence shown towards his works by the previous generations.'
'We have failed to internalise Rabindranath Tagore in a way so that there would be works in academic, social and cultural spheres reflective of his achievements and ethos. It is not even possible to think of pure Bangla language without Tagore,' he said.
'The government and the society should patronise the ethos of Tagore in Bangladesh. The government is now patronising religious bigotry instead of culture. They will spend on building mosques in upazilas across the country, but there would be no initiative to develop Rabindra Academies in the country. Many TV channels are also not broadcasting adequate programmes on Tagore while the number of programmes marking his birth and death anniversaries are also decreasing,' Ananta added.
Want stories like this in your inbox?
Sign up to exclusive daily email
More Stories from Literature