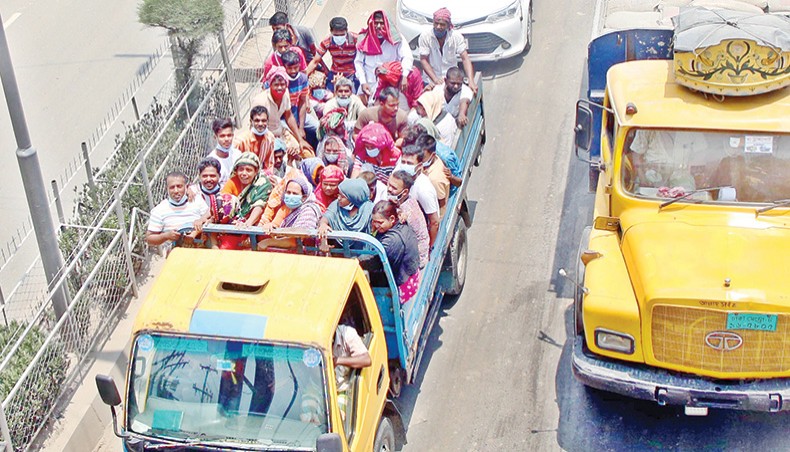 The mad rush of people out of Dhaka and adjacent areas for their village homes increased on Friday amid widespread violation of the current restrictions on public movement and overall activities to check the Covid outbreak.
People everywhere — from roads to footpath shops to shopping malls to kitchen markets to ferry terminals — grossly violated health regulations as they did not maintain social distancing, wear masks properly and use sanitiser due to lack of strict monitoring.
On Friday the positivity rate climbed to 9.89 per cent from 8.44 per cent on Thursday, which was below 9 per cent in the past four consecutive days.
Public health experts earlier expressed the fear of a fresh outbreak if the violations went on amid relaxed restrictions.
Passengers on foot and vehicles crowded major ferry terminals on the 24th day of the current restrictions to cross the River Padma for southern districts ahead of the upcoming Eid-ul-Fitr.
Some of the ferries were seen to carry only passengers as there was immense pressure of travellers, in which no social distancing was maintained.
A Madaripur district administration mobile court fined a Bangladesh Inland Water Transport Corporation staff at Daulatdia terminal for charging higher ferry fare, among others.
Huge rushes of people to northern districts also got out of the city by buses while many of them were seen to hire CNG-run auto-rickshaws, cars and even pickup vans and motorcycles.
Though the ban on inter-district bus services remained in force, passengers changed buses on different district boundaries, who were forced to pay higher fares.
Many people with luggage were seen walking to the city exit points, including Gabtoli and Jatrabari, on their way to long-distance destinations throughout the day.
Crowds were seen to leave Dhaka through Gabtoli and Jatrabari by, in addition to walking, sharing cars, microbuses, pickup vans and motorcycles as buses were not allowed to leave for any district.
A circular issued by the Cabinet Division on Wednesday extended the current Covid restrictions till May 16 and allowed the intra-district road public transport services after 22 days while the ban on train, launch and inter-district bus services remain in force.
Earlier the government has allowed all banks to continue their activities daily for a limited duration since April 14, permitted domestic flight operations on all but the Cox's Bazar route since April 21 and reopened shops and shopping malls since April 25.
However, the unity council of road transport owners' and workers' organisations is scheduled to hold a press conference in the capital today to demand resumption of the inter-district bus services.
Prime minister Sheikh Hasina on Thursday urged people to celebrate the upcoming Eid in their present locations to help check the spread of the coronavirus across the country.
The immediate past April was the worst month in terms of lives lost to Covid-19 in Bangladesh with 2,404 deaths, almost double the figure in July 2020 that saw 1,264 deaths when the first wave of the pandemic peaked after the virus was detected in March 2020.
The country's Covid death toll reached 11,833 with the number of cases hitting 7,70,842 till 8:00am on Friday, according to the Directorate General of Health Services.
Since Friday morning ferries overloaded with passengers and vehicles were seen coming to the Daulatdia terminal from the Paturia terminal.
Goalanda upazila assistant commissioner (land) and executive magistrate Md Rafiqul Islam, while conducting a mobile court at the Daulatdia terminal, fined Golam Mostafa, a BIWTC staff working at the terminal, Tk 20,000 for selling tickets at higher prices than the normal.
'After receiving allegations from some drivers we have found that he was charging Tk 800 instead of Tk 740 from each vehicle,' Rafiqul said, adding that he also fined four people working for ferry-leasing companies Tk 1,000 each for taking Tk 30 instead of Tk 25 from each standing person on the ferries.
The New Age correspondent in Munshiganj reported that the pressure of passengers and vehicles increased at the Shimulia ferry terminal from the morning when around 700 vehicles were in a queue there to cross the river by the Shimulia–Banglabazar route.
The BIWTC operated 13 ferries to handle the pressure of waiting passengers and vehicles while many people came to the terminal in crowded auto-rickshaws and cars by paying a higher amount of money.
Some ferries even left the Shimulia terminal only with passengers due to their rush, with the passengers standing in body-to-body contact and many of them not wearing masks properly either.
BIWTC Shimulia terminal manager Shafayet Ahmed said that the pressure of passengers increased owing to the upcoming Eid festival and the weekly holiday.
The Tangail New Age correspondent reported that people with families were crossing the Dhaka–Tangail–Bangabandhu highway by buses, trucks, pickups, legunas, auto-rickshaws, cars, microbuses and motorcycles to reach different northern districts.
CNG auto-rickshaw driver Wahab Ali said that he was taking passengers at the rate of Tk 200 per person from the Karatia bypass to the east side of the Bangabandhu Bridge.
Many passengers went to their destinations by changing buses on different district boundaries by paying Tk 30 to Tk 50 to trucks that took them from a district boundary to the next district bus terminal while passengers on the intra-district buses were comparatively fewer.
Elenga Highway police outpost in-charge Yeasir Arafat said that people were using other transports, too, to cross the highway while they were trying to check the matter.
The ongoing restrictions started on April 14 before which on April 5 the government imposed an 11-point restriction on public movement and businesses.
The previous restrictions were extended amid widespread violations as many people came out of their homes while others went shopping, crowding markets despite high risks of infection in the capital as in the other cities.
Want stories like this in your inbox?
Sign up to exclusive daily email
More Stories from Country